Kenneth Wayne Morgan was born 9 October 1926 near Ririe, Idaho in an area then known as Rudy and today known as Clark. His parents, Kenneth and Mary Finn Morgan, had just been married for a year and were living on a rented farm near Kenneth Morgan's father William Morgan.
Wayne Morgan Growing Up Pictures
Click on the link above to see Wayne Morgan's baby and teenage pictures as well as a picture of his first grade school class.
Wayne Morgan was born into hard work. He worked for the Civilian Conservation Corps in Weippe, Idaho during the summers between his sophmore-junior and junior-senior years in high school. The CCC work was in the mountainous woods, building roads and bridges.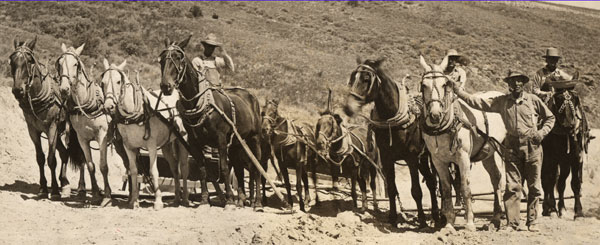 Wayne Morgan was born into the time when the Kenneth and Mary Morgan family were very poor and struggling to get a foothold in the world. It would be many years before they could afford to buy a tractor and so Wayne, like his father before him, grew up working with horses. Long days of hard, dirty work were the norm during his growing up period. Wayne is not in this picture, but some of his relatives are, and the picture is a good illustration of the kind of work that wayne grew up doing on the farm.
Wayne was the kind of guy you could, if you were his younger brother, share a room with, and he would look out for you and never torment you (speaking from experience). When we were hauling loose hay with horses and wagons, I was the driver and he was the "tromper" who packed the hay on the wagon so it would stay in place while it was transported to the haystack. Many times I started the horses while he was on the back of the load and he fell off the back. Never once did he get angry with me or speak an unkind word. He just climbed back on the wagon and went back to work.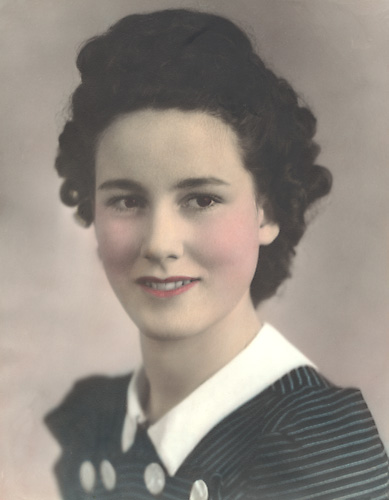 Margaret Mobley Morgan taken about 1942?
Wayne Morgan married Margaret Mobley 2 December 1943. Margaret and her brother Keith were the adopted children of Grover and Katherine Mobley. Grover owned and operated a bee business in Clark, Idaho, about five miles from the farm near Rigby, Idaho where Wayne grew up.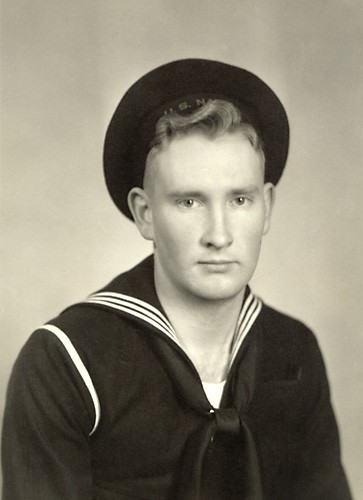 Wayne Morgan wearing his navy uniform. Taken in 1944.
Wayne didn't finish high school. He enlisted in the navy before he turned age 18 in 1944. It seems the war compressed, or accelerated, Wayne's life. He married late in 1943, at the age of 17, and went to serve in the military the following year. There was a war going on and he knew he would be drafted. He and a number of other boys in his class enlisted in the military in 1944 rather than be drafted. Wayne chose the navy. It was a very dangerous and uncertain time and people had to make life choices based on the possibility that they may not return from the war.
Kenneth Wayne Morgan Life Sketch
Click on the link above to see more pictures of Wayne and Margaret Morgan and to read a life sketch.