Rachel Leah Smith first married Andrew Jackson Ross in Tennessee in 1838. To this marriage was born James Richard Ross (1839) and Melvin Ross (1842). Andrew Jackson Ross was killed in 1843 when he was thrown from a load of timber while coming down out of the Tennesse mountains.

Rachel Leah Smith married John Whitlock Radford in 1845 in Illinois.
The Smith, Braswell and Agee familes (Rachel Leah Smith's family)
Click on the link above to read a history of the Smith, Braswell and Agee families who were Rachel Leah Smith's ancestors.
In the picture below are John Whitlock Radford, Rachel Leah Smith (Ross) Radford and some of her family from her first marriage to Andrew Jackson Ross. Leah's son James Richard Ross, his wife and some of his children are in the picture. Her son Melvin Ross is not in the picture because this picture was taken about 1880 and Melvin was listed in the 1880 census as being in the Utah Territorial Prison. Melvin Ross's first wife, Julia Elizabeth Smith Ross is not in the picture because she had died from injuries incurred in a wagon accident in 1878. Some of Melvin and Julia's children are in the picture.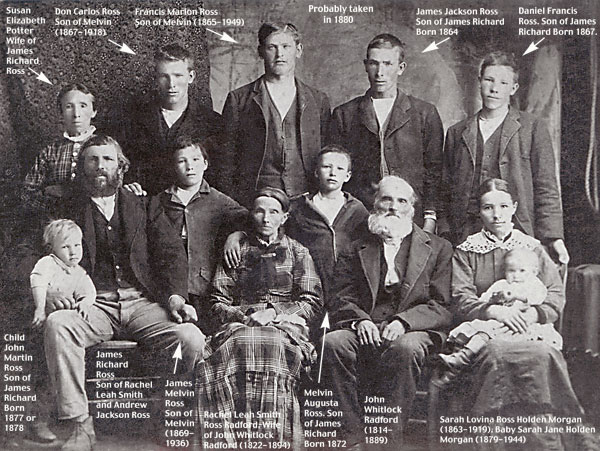 The woman sitting front right is either a daughter of James Richard Ross or a daughter of Melvin Ross (who is not in the picture). If a daughter of Melvin and Julia Elizabeth Smith Ross her name is Sarah Lovina Ross Morgan. Her first marriage, at the age of 14, was to John Holden. The baby she is holding, Sarah Jane Holden, was Melvin Ross's granddaughter and Rachel Leah's great granddaughter. John Holden was dead when this picture was taken and Sarah Lovina Ross married William Thomas Morgan 16 Feb 1880. So, depending on when in 1880 this picture was taken, Sarah Lovina Ross was either married to William Morgan when this picture was taken or married him soon after.
See the correction page link below to see further information on the possibility that the woman in question is Sarah Susan Ross Ivie.
Other researchers have posted different identifications for some of the people in the above picture of the John Whitlock Radford/James Richard and Melvin Ross family picture. We have presented their view on the correction/explanation page.
John Whitlock Radford Life Sketch
Click on the link above to be taken to a short life sketch for John Whitlock Radford written by Rebecca Freeman