Portrait of Wayne Morgan wearing his navy uniform. Probably taken in 1944.
Wayne Morgan grew up early and fast. He started school in the fall of 1932 (a couple of months before turning 6 years old), worked in the mountains away from home in summer 1942 between his sophmore and junior years (at age 15) and in summer 1943 between his junior and senior years (age 16), married late in 1943 (at age 17), enlisted in the navy in 1944 (while still 17), and was in the military when he turned 18. He never finished high school.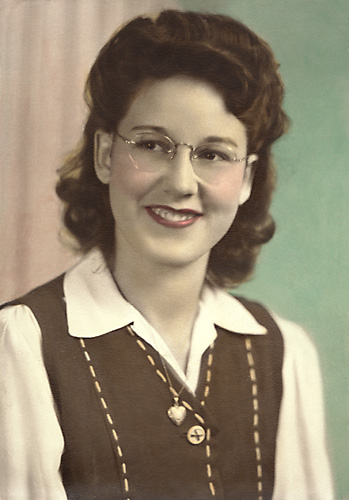 A later portrait of Margaret Mobley Morgan.
Wayne and Margaret married 2 December, 1943 and Wayne left for the navy soon after. When he returned from the navy Margaret's father, Grover Mobley, needed someone to help him run his bee business. Wayne needed a job so he went to work for Grover.
Wayne and Margaret lived in a white house in Clark, Idaho, near Grover and Katherine Mobley. The bee business was slow in winter and Wayne worked in the potato warehouses and sugar factory in winter. Wayne was born into hard work, which was a major theme in his life.
Five of Wayne and Margaret's six children were born while they were living in Clark, Idaho. They were:
(1) Margaret Ann, born June 17, 1944, known by the name Ann. She was sometimes called "baby Ann" in her younger years because Wayne's aunt Lucille Moore, who lived nearby, also had a girl named Margaret Ann.
(2) Robert Wayne, born Jan 31, 1947, known as Bob. Robert Wayne died Christmas day, December 25, 1989, in an automobile accident in Montana.
(3) Cathryn Mary, born January 10 1949, known as Kathy.
(4) Kenneth Grover, born March 3, 1953, known as Kenny.
(5) Janine, born October 25, 1955.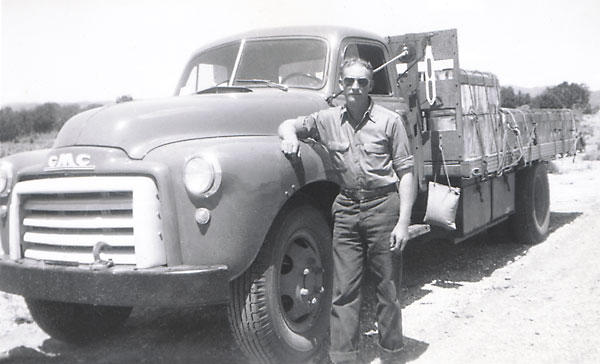 Wayne Morgan with his big GMC truck in 1951. The truck is loaded with 60 pound cans of honey. Note the canvas water bag hanging behind Wayne. This was a common way to carry water. Evaporation of water through the wet canvas kept the water cool.
It was during the time when Wayne was working for Grover Mobley that Grover bought another bee business in California and in 1951 Wayne was introduced to the practice of hauling bees to California for the winter. Bees were put in the Almond groves to pollinate the trees. Then were hauled back to Idaho for the summer honey season. Wayne told some funny stories about bees leaving the hives (which were closely packed on the truck) during the trip to California and clustering on the wall of the motel where they were staying. Wayne would calmly go into the swarm, find the queen, put her back into a hive, and lure the swarm back into it's home.
In 1952 Wayne bought the Idaho bee business from Grover Mobley and Grover retired. Grover Mobley was born 26 July 1888 and died in August 1976. His wife, Catherine Mobley, was born 24 February 1888 and died in November, 1951.
In 1956 Wayne purchased a bee business in Hot Springs, Montana, a small town on the Flathead Indian Reservation, about 100 miles Northwest of Missoula, Montana. With the purchase finalized, Wayne and Margaret moved their family to Hot Springs in January, 1957. They moved into a house on the edge of town that had it's own honey warehouse.
It was at this house in Hot Springs where Wayne and Margarets sixth, and last, child was born. She was:
(6) Becky Jo, born December 4, 1959, known as Becky.
Wayne loved Montana. His bee business encompassed a large area of remote and beautiful country which other beekeepers were not allowed by law to infringe on. He traveled daily between his many beeyards in this pristine country and often commented on how he loved to be out traveling around in such wonderful country. There were some problems adjusting to living and working on an Indian reservation. Indians were often resentful of white people living on their reservation and Indians did not incorporate the same work ethic that Wayne believed in. There was also the constant problem of bears raiding beeyards. Once a bear has gotten into a beeyard and gotten a taste of honey and bee brood, it is next to impossible to keep them out. Electric fences, trapping and moving, and selective shooting kept the problem under control. But it never went away.
In 1965 Wayne and Margaret purchased another bee business centered in Charlo, Montana. This business included the bee territory, 20 acres of land, a house and a warehouse. This bee area placed his beeyards in the vicinity of the National Bison Range and the Mission Mountains, another stunningly beautiful part of Montana. Wayne and Margaret sold the Charlo business in 1970 because it was more work than they could handle.
This was a very busy period of wayne's life. He was president of the Montana Beekeepers Association, a scoutmaster, a member of the Lions Club, and served on the schoolboard.
In February, 1970, only shortly after they had sold the Charlo bee business, the honey warehouse next to Wayne and Margarets house in Hot Springs burned down. Wayne and Margaret then traded their house in town for 160 acres of land out of town a little ways, with a house and artesian well on it, and immediately began to build a new honey warehouse there. In April, 1970, the family moved to "the ranch" as they called it. Wayne loved his ranch and later added another 55 acres to it. He continued to run his bee business and started a small herd of Hereford cattle, which he enjoyed very much.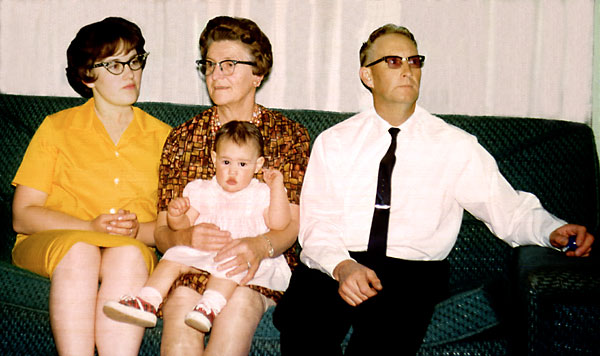 Wayne Morgan four generation picture. Mary Finn Morgan (1907-1999), Kenneth Wayne Morgan (1926-1991), daughter Ann Morgan Howser, grand-daughter Tammy Howser. Taken 1964.
Margaret, Grover, Ann, Tammy, Four Generations
Click on the link above to see another four generation picture, this one with Margaret, her father Grover Mobley, daughter Ann, and granddaughter Tammy. And a picture taken on a fishing trip in 1947.
Kenneth Wayne and Margaret Morgan in a Morgan Family Picture
Click on the link above to see a large Morgan family picture with Wayne and Margaret Morgan and three of their children (Ann, Bob, and Cathy) taken at Christmas 1952. There is also a picture on this page of Wayne and his father Kenneth Morgan taken in 1955.
Wayne sometimes drove truck for the Superior Honey Company for supplemental income. He was friends with Jay Redfield, who owned Superior Honey Company. In 1972 he began hauling his bees to California for the winter, where he put them in the Almond groves to pollinate the Almond trees.
Wayne loved Montana and was dedicated to his bee business. But the bee business was not without challenges. A disease of bees, called foul brood, was an ever present threat that had to be constantly guarded against. And later a new threat, the parasitic varroa mites, became a serious threat to the bees. And honey that was imported from other countries could be imported at prices below Wayne's cost of production. Running a bee business was a lot of hard work and struggle.
Wayne and Margaret sold the bee business to Wayne's son-in-law Jim Jaques, in 1986.
Late in his life Wayne began to collect rocks and developed into quite a rock hound. He had a rock cutting and polishing shop in his large garage and when visitors came to his house they were sure to be treated to a tour of the rock shop where Wayne would wet and polish rocks to show them. During the winter of 1987-1988 Wayne and Margaret went south to Arizona in their motor home, collecting rocks as they traveled.
On April 3, 1988 Wayne had a heart attack. He recovered and he and Margaret traveled during the next two winters, collecting rocks. In September, 1990 Wayne became ill and he may have been allergic to the medication he was given. Then he might have been overmedicated, and on 29 January, 1991 he died in the hospital at Missoula Montana.
This researcher is not given to writing nice things about people who do not deserve it. But is ready and willing to state without reservation that Wayne Morgan was truely a good person. He worked hard to take care of his family. He honored his mother and father. When Ken or Mary needed help or the loan of equipment on the farm Wayne was always willing to help. He visited his parents, went on trips with them, and supported family reunions. After Mary Morgan was widowed and living in Rigby, Wayne and Margaret came to visit and Wayne noticed that Mary's washer and dryer were getting old. He said nothing, but a few days after they left deliverymen showed up at Mary's door with a new washer and dryer. Without asking for thanks or recognition, Wayne and Margaret had paid for the washer and dryer on their way out of town. This is only one example of Wayne's many generosities toward his parents.
Wayne was inordinately generous with his all family. When he and Margaret came from Montana to visit his family in Idaho he always brought a car trunk full of honey to give to his siblings. He always refused payment for any of it. Wayne was easily the most generous person in the Morgan family.
Wayne Morgan was a quiet, soft spoken man, and none of us ever heard him raise his voice.