Kenneth Morgan was born at his parents home in Neeley, Idaho on 28 October, 1905. He was the 11th (and next to youngest) child in a large family. His parents were William Thomas Morgan (Son of Thomas and Ann Watkins Morgan) and Sarah Lovina Ross (Holden) Morgan (Daughter of Melvin and Julia Elizabeth Smith Ross).
Kenneth Morgan's older brother, Alvin Elmer Morgan, wrote of Ken in his life history; "Kenneth was raised on a bottle and he packed the bottle till he was about ten years old it seemed."
Ken's father, William Thomas Morgan, had homesteaded an irrigated farm when he came to Neeleyville (later called Neeley) Idaho in 1881 and then later he homesteaded 160 acres of dry farm land in the Neeley area. Ken spent his early years on the Morgan family farms in Neeley and the Neeley area where he acquired extensive experience with farming and horses. He told of his older brothers capturing wild horses in the mountains and bringing them home to tame and ride. He became a proficient horseman at a young age. His father, William Thomas, was a hard worker and he passed that trait on to Kenneth. There was a lot of freedom for the big Morgan family on the farm and Ken used to joke that his dad sent all the kids out on the farm to work in the spring and rounded them up in the fall when school started.
School was not a high priority on the Morgan farm and Kenneth didn't take it very seriously. He often joked that the kids got tired of school and burned the school house down to get out of going to school.
Ken turned 13 years old in the fall of 1918 and three months later his life abruptly changed. His mother and father were in the habit of taking doses of Espom Salts as a tonic to make them feel better. On January 10th, 1919, Ken's mother Lovina took a dose of Epsom Salts and quickly became very ill. The doctor was called but she was beyond help and died an angonizing death. William had also taken a dose and within a few hours he was also ill but he recovered. Strychnine, which is a white powder like Epsom Salts, had been placed in the Epsom Salts can some time before. It may have been there at the bottom of the can for a while and on January 10th William and Lovina got down into the Strychnine and ingested it. Apparently Strychnine was put into the can, which was routinely taken to the local druggist for refilling, by mistake.
William Thomas Morgan was 63 years old when his wife died a terrible death from Strychnine poisoning. He and Lovina had homesteaded the Morgan farm in Neeley in 1881. They made the trip from Utah to what was then called Neeleyville, Idaho with William's brothers Edward Morgan and James John Morgan and their families, Lovina's father Melvin Ross and his second wife Mary Ellen Haddon Ross, and Edward Morgan's oldest daughter Annie Lydia and her husband Willard Moore. All these families settled on homesteads in the Neeleyville area but all of them except William and Lovina returned to Utah and later joined the Thomas Morgan and John Whitlock Radford families in a move to Wyoming in 1888-89. Subsequently, in 1891, after a couple of very hard years in Wyoming, William Morgan's father and mother and all the intermarried Morgan and Radford families in Wyoming moved to Southeastern Idaho where they settled on homesteads in the Ririe area near the Snake River. William's father, Thomas Morgan, had died in 1915 but in 1919 there was a large extended family of Morgans, Radfords, Rysets, Ross' and Moores in the Rigby and Ririe area of Southeastern Idaho, including William's brothers Edward and James John and his sisters Everal Hannah and Priscilla. His half sister Martha Veletta lived in nearby Milo and Frank Ryset, who was raised in the Thomas Morgan family and had married Edward Morgan's daughter Sarah Priscilla, lived in the Ririe area. In addition, three of William and Lovina's married children and their families, Clifton and Velma Morgan, Ada and Dee Radford, and Julia and Rast Hansen, lived in the Ririe area. So after the death of William's wife Lovina it was only natural that he should choose to move to the Ririe/Poplar area of Idaho where most of his family now lived.
Lovina died in January, 1919 and that spring William and the remainder of his family moved to a farm that William purchased in an area near Ririe, Idaho that was called Rudy then and is called Clark now. There were three children still at home at this time. Golden (Jack) was 16 years old, Kenneth was 13 years old and the youngest member of the family, Orlean, turned 12 years old in July, 1919.
This move was to have a major impact on the lives of the three youngest children who moved with William. Jack and Ken Morgan met the women they would later marry at the dances held at the Rudy (now Clark) church. Orlean met and married Lenard Nield in the area. Transportation was slow in 1919 and it is not likely any of these three children would have met the same mates if they had still lived in Neeley.
Ken Morgan met Mary LeRosa Finn in 1924 at one of the popular dances at the old Clark Church. He would ride his horse from Shelton to attend the dances. After dating for a while he asked her to marry him and they were married on February 4th 1925, six years after Ken moved to Clark. Her parents sold a load of wheat from their storage grainery to get the money to buy her a wedding dress and refreshments for a reception at the Clark Church. Bishop Ed Lovell performed the ceremony. The Clark Ward sponsored a bus to Logan, Utah in June of that year. They were able to make the trip and were married for time and all eternity on June 17th, 1925 in the Logan Temple.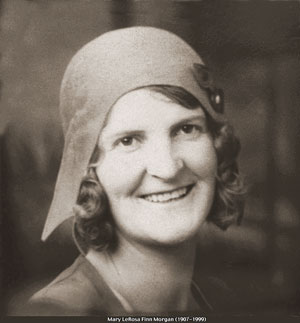 Mary LeRosa Finn Morgan (1907-1999)
Mary LeRosa Finn was a daughter of Wilford Harris and Sarah (Sadie) Jeffs Finn. Mary came from a large family of 10 children that was raised on a farm in the Clark Ward. Interestingly enough Ken and Mary had almost identical backgrounds. Both the Morgan and Finn families converted to the Mormon Church in England, came to America on wooden sailing ships, traveled to the American West by wagon train, and were raised on homesteads in Idaho.
Mary finn was the oldest daughter and oldest child in the Wilford and Sadie Finn family. She was baptized by James Anderson on July 3, 1915 in the Rudy Canal on the corner near the Clark Church. She attended school in Clark, graduating from the eighth grade on May 24, 1921. She rode her horse four miles to Rigby to attend high school but had to quit after a year and a half. Her mother was not well for much of her later life and Mary had to stay home to help care for the younger children. The Finns were hard working people and careful money managers who were able to buy and improve their farm during times when most people were having great financial difficulty. The story is that Wilford Finn kept his savings in a fruit jar buried at the base of a tree in the orchard and that when the time came to build a new house he had the money to pay cash for the materials and labor. Mary learned the Finn hard work and careful money management ethic early in her life. She had a great talent for sewing. Mary and her sisters would go to town, buy material, and Mary would make clothes for all the family from patterns they made themselves.
After their marriage in 1925 Ken and Mary set up housekeeping in a two room log house across the road from Ken's dad William Morgan's home. The home must have been in poor condition because Mary often told of the bedroom being so cold and drafty that when the wind blew there would be snow across the foot of the bed. Ken was working on the Bill Speary farm at the time and later they rented a farm from Rebecca Hall. The first years were a lot of hard work, but Ken and Mary were used to hard work and they were happy. They also had help from his father William Morgan and Mary's father Wilford Finn. In the fall of 1930 they harvested a bumper crop of wheat from the Elliot farm (which they must have rented) and were able to get a downpayment to buy a farm of their own. On March 1st 1931 they bought a farm one mile East of Rigby, Idaho, from the Eugene Stowell family. The farm was small, about 55 or 60 acres with a ten to twenty acre portion still uncleared of trees, a two story square stone, brick and adobe house, and an old barn on it. There was a woodstove in the kitchen that served to heat the entire house. And, outside, a well from which water was pumped by hand, a luxury at the time, as most people had to use water out of the canals. They used coal oil lamps for light. They were happy with the place and felt they had been blessed. Here Ken and Mary Morgan settled in to make their life and raise their family. It was another ten years or more before they were able to clear the remainder of the land of trees and prepare it for farming. Over the years they remodeled the house, adding a roomy lean-to kitchen and basement on the East side and stuccoing over the red brick exterior. In addition, in the 1940's (about 1946, 1947 or 1948-the oldest picture we have of it was taken in 1949), they built a new red barn. The barn was built of stacked 4 X 4's with a metal roof and is still standing as of this writing (2007). They also built a potato cellar which served it's purpose for many years but finally caved in from the weight of the rocks and soil that were used to cover it. Ken liked to work in the potato cellar in the winter because Idaho winters are cold it was not so cold in the cellar.
The Morgan farm was a stable family place in those early years. In the summer of 1944 when Mary's mother died, her younger sister Beth came to live there. She lived with them until she married Ray Tolley in 1946. Mary's sister Olive, her husband Reid Adams, and their new family lived in a small house in the Morgan's orchard for a while when times were hard for them. Mary's sister Zelda and her husband Merrill Brower lived in the Teton Valley where severe weather would often ruin their crops. Merrill, Zelda and their family came to live with Mary and Ken several winters after crop failures put them into financial hardship. Sometimes they stayed upstairs in the Morgan house, other times they stayed in an old house across the street. The Morgans and the Browers would have Christmas together when the Browers were there for the winter. When Ken and Mary's oldest son Wayne left for the Navy, Wayne's wife Margaret and their oldest child Ann came to live with Mary and Ken for a while. The only guest who was ever expelled was an old man with the last name of Birch who, with nowhere to go, was allowed to park his small trailer house in the barnyard. When Mary found out he was eating her laying hens, she asked Ken to run him off.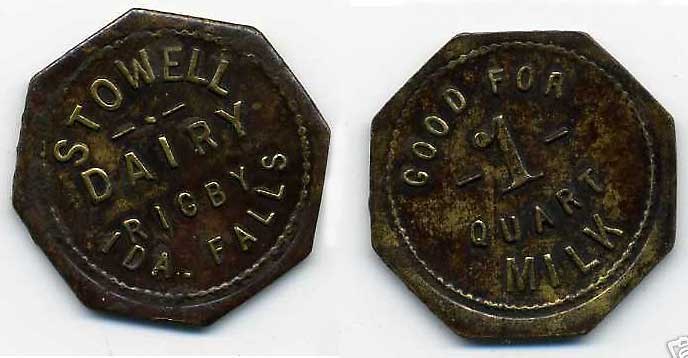 After Kenneth and Mary Morgan bought their farm from the Eugene Stowell family, the Stowells moved their dairy into the town of Rigby where they processed milk, bottled it, and delivered it to customers. For many years Ken and Mary supplied milk to the Stowell dairy. The tokens shown above were given out by the Stowell dairy, presumably to promote their dairy business. Later Ken and Mary sold their milk to the Kraft Cheese Factory in Ririe, Idaho.
Like his father before him, Ken Morgan was not inclined to move around. He and Mary bought the one farm near Rigby and Ken lived his life and died on that one farm. From the age of 13 until his death he lived in the Rigby, Ririe, Clark area which is about 5 square miles in size. He did have a desire to own a cattle ranch, a desire that was possibly a remnant of the Morgan family pioneering instinct. Ken's grandfather, Thomas Morgan, was a pioneer in the purest sense of the word, leaving England to pioneer new communities in Utah, Wyoming and Southeastern Idaho, and his father, William, was an early pioneer on the fertile farming plains of the Snake River in Southern Idaho. In Ken's day the Salmon, Idaho area, a rugged wilderness to the North in Central Idaho, was one of the last frontiers (The road from Mud Lake to Salmon via the Lemhi Valley was not paved until the mid 1950's). Ken's older brother George William owned and operated a cattle ranch near Salmon and Ken occasionally looked at cattle ranches in the Salmon area with the idea of buying one. But he never did. And probably just as well. He was a farmer at heart and farming was what he knew best.
There were other notable similarities between Ken Morgan and his father William. Both were married to physically large, strong women who were highly competent in their work and somewhat domineering in the marriage. Niether of these women were shrinking violets. This was positive in general because both Morgan men were easy going, non-assertive and content (except for occasional dissent, like, in Ken's case, when he wanted to buy farm machinery that Mary didn't feel they could afford) to let their wives take a strong role in decision making. And it was very useful for these two bashful men to have an assertive wife who could handle difficult situations.
Ken Morgan and his father William were both fearless, sometimes too fearless, around animals and shy to the point of weakness around people. Ken casually walked through the corrals past his snorting, menacing, dangerously mean Holstein bulls and he could throw a harness on the wildest horse. But he could not say no to even the most unreasonable request from another person and could never bring himself to go ask a neighbor to return borrowed machinery. One time a neighbor, who was notorious for not returning borrowed farm equipment, asked to borrow Ken's tractor and plow, which happened to be in use at the moment. Ken sent the man into the field where he ordered Ken's son to stop plowing and give the machinery over to him. The neighbor, using Ken's tractor and plow, got his land plowed and planted on time while Ken's plowing and planting had to wait until the equipment could be retrieved by Mary demanding it's return. And Ken's shyness made him putty in the hands of salemen. They could unload almost anything on him and he was too polite to challenge them. Ken's fear of confrontation with people created personal realtionships in which he had to depend on the integrity of people, who knew they could use him, to treat him fairly. Many people could not resist exploiting this weakness which resulted in people all too often taking advantage of him. Mary would then assail him for allowing it, and he would respond by retreating to the solitude of his fields.
Ken Morgan learned to work with horses at a young age. He loved and understood horses and was an expert horseman. He had a particular fondness for high spirited horses. In some part because horses were the primary means of transportation and high spirited horses got him where he was going faster. But also, in some part, because he loved adventure and high spirited horses gave him a means to express his dashing, adventurous side. In his younger years he captured a wild horse on the Indian Reservation near Sunbeam, Idaho that he tamed and broke to ride. This horse was his pride and joy. He loved to ride in rodeos and enjoyed the fun of being a cowboy. He always wanted a son who would be a famous rodeo rider but his hopes were never realized. He always had a colt he was breaking and it was dangerous to ride in the buckboard when it was pulled by a colt that was being broke. There is a story that he was showing off by running his horse on the wooden sidewalk at Ririe when the horse stumbled and fell, breaking Ken's leg. Ken was a bit of a cut-up in his youth and one of the ways it expressed itself was doing dangerous stunts on horses.
Ken's fondness for high spirited horses caused him to be perhaps too tolerant of wild, and even mean, horses. The benefit of his ability to work with rank horses was that he could break the cheaper, wilder, colts to work. The down side was that it was dangerous and sometimes the children, who were not as competent as he was, were injured by horses. He had one team of horses that would sieze upon most any excuse to run away. The team of work horses would begin to run with farming equipment, such as harrows or wagon, hitched to them, and a hapless teenager helpless in the seat or on the wagon. Once the horses began to run the increased noise and confusion of the equipment behind would frighten them and the horses would go into a crazed, out of control run, often running right through fences and other obstacles. There were a number of close calls in the Morgan family from runaways, but luckily no one was seriously injured
Ken's competence with horses did not carry over particularly well to motorized equipment. He was a little careless with motorized equipment, perhaps because he did not understand the amount of power he was dealing with. He once tried to start a baler motor by pulling on the large cast iron flywheel. When the motor kicked in it swept his hands under the belt on the flywheel and almost twisted his arms off as it pulled him through an instant 360 degree twist. In another incident his daughter Margie was seriously injured when she was pulled into the power takeoff shaft of a potato digger from which Ken had removed the guards. And in the end it was a tractor flipping up over backwards that fell on him in the bottom of a canal and killed him.
Harvest time was the most exciting time of the year on the Morgan farm and produced one of the best stories about Mary Morgan. Grain was cut with a horse drawn binder (which was later converted so it could be pulled by a tractor) which cut off the grain, pressed it into a bundle, tied a piece of twine around it, and kicked it out onto the ground. A set of tines on the side of the binder held half a dozen bundles until it was dumped when the operator kicked a foot pedal. The children got the job of "shocking grain" which meant stacking the bundles, butt on the ground and grain heads at the top, into tipi shaped groups called shocks. Henry Olsen, a neighbor, had a big, clumsy, steel wheeled steam powered tractor and a Case threshing machine. When shocks of grain were dry and threshing time began all the farmers who were going to thresh with Henry Olsen's machine traveled from farm to farm with the machine. The big steam tractor was lined up with the thresher and a large belt was run from the drive pulley on the tractor to the pulley on the thresher. Horse drawn wagons went into the fields where pitchers forked the bundles of grain onto the wagons, heads to the center, butts to the outside. Then the wagons were pulled up alongside the thresher's hopper and the grain bundles were pitched, head first, into the rumbling machine. The huge blower at the rear blew the straw out a long pipe which was moved around to shape the straw stack. Men either bagged the grain into burlap bags as it came out of a tube on the side of the thresher, or allowed the grain to run loose into wagons, and it was transported to a granary for winter storage.
Running a threshing machine required a large crew of men, women and children and it was the custom that the house where the threshing was taking place fed the "theshers." Just as all the men who would be using Henry Olsen's thresher came with the thresher to each farm, most, if not all, of the women from these farms would come to prepare huge meals for the threshers. These were meals the likes of which are not seen today. Fifteen or twenty men washing up in a large washtub in the back yard and then sitting down for a noon meal at a table loaded with meat, potatoes, gravy, vegetables, and home baked bread, topped off with pie, cake and home made ice cream. Such an event required that tables be extended to their maximum capacity. One year Mary extended the table all the way out, put all the extra leaves in it, and the women had it loaded with food when the table gave way in the middle and collapsed on the floor, dumping all the food into a pile and breaking all the plates except one. Mary, a religious person all her life who never used profanity, looked at the mess in shock for a moment, picked up the one unbroken plate and smashed it on the floor, saying "This little S O B might as well go too!"
Ken Morgan (and his brothers) had a mischievious side which was sometimes at odds with Mary's stern, serious/anxious Finn nature. Mary's sister Sarah and her husband Al Alvey told this story about Ken and Mary. They were driving along one day when a bird flew past the front of the car. Ken joked, "hide ma, it's the stork!" He always called her "ma" and, in his easygoing way, would say "now ma, now ma" as she went on about some problem that she was usually making too much of. The stork story reveals some issue having to do with Mary's attitude toward raising children (Ken and Mary had 7 children). Mary was a perfectionist (a Finn trait) and she often made life more difficult than it needed to be in her demands for perfection from herself, her children, and Ken. Her striving for perfection in an imperfect world sometimes caused her to feel overwhelmed.
Ken and Mary Morgan had different, and sometimes conflicting, attitudes toward money and helping others. Ken was easy going and would give anyone anything they asked for, even when he knew they were taking advantage of him. His brothers were mostly free to come to the farm and take what they wanted. And he sometimes spent money carelessly. Mary was a caretaker who took in members of her family when they needed help. Her younger sister Beth came to live with the Morgan family after Sadie Finn died and several of Mary's sister's and their families came to live at the farm during the hard years of the depression. On the other hand, Mary believed in discipline with regards to money and property. People were not welcome to come to the farm uninvited and take what they wanted. She wanted an accounting of what went where and she never spent money carelessly.
Ken and Mary Morgan were very hard workers who were able to buy their farm during the great depression years of the early 1930's when others were failing all around them. They were very industrious. They always had an orchard and, until later in their lives, a raspberry patch. Some raspberries were picked and canned, others sold. They always had a large garden which, because they canned so much of it, provided the family with most of their food both summer and winter. They made annual late summer treks to Kelly Canyon to pick huckleberries which were canned for winter use. And every fall some deer, elk, or antelope would be harvested and frozen for winter meat. Their farm was too small to be economically self sufficient but Ken kept a herd of dairy cows to provide a steady income from the farm and worked at various part time jobs in addition. In the early years he worked stacking one hundred pound bags of sugar during the winter at the sugar factory near Rigby. For many years during the 1940's and early 1950's he worked as a part time plumber for Sheridan Evans and he owned a complete set of plumbing tools. Late in his life he drove school bus and dug graves at the Rigby Pioneer Cemetery. Mary was a competent worker who made most of the family's clothes during many of the early years, raised a large garden every year, canned and stored the garden food for winter (with the help of the children), worked during the 1960's as a seamstress for the Bon Marche store in Idaho Falls, and was a very good money manager. Her skill and discipline at handling money may have been the most important factor in their success at a time when money was so difficult to come by. Nevertheless, their differences on the issue of how to handle money sometimes led to conflict and bitterness between them during the best years of their lives, bitterness that Mary regretted after Ken's death in 1969.
The picture below was taken in the fall of 1951 because they had a very large crop of bannana squash in the garden that year. The old pickup was the first pickup they owned on the farm.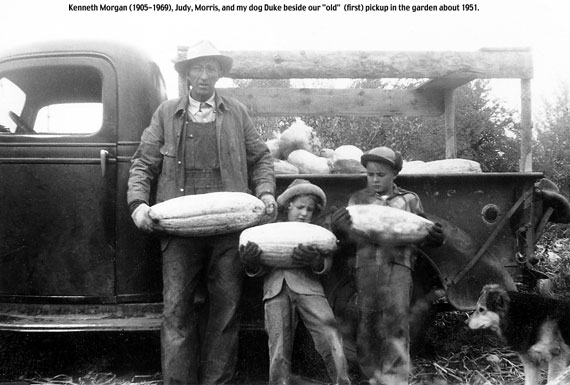 In the early days after Ken and Mary Morgan bought their farm the garden area shown in the picture above had a small potato cellar (Called a root cellar). During the hardest times Mary's sister Olive and her husband Reid Adams and family lived in a two room house that was in this orchard and the old original root cellar was pressed into service as storage because the house was so small. A chicken coop was added later. All of these had been removed and the area planted to fruit trees by the time this picture was taken.
Ken Morgan was active in the LDS church all of his life and served as a counselor in the Bishopric for many years. Which only makes this story about him all the funnier. Ken was a shy, laconic farmer who was not prone to expressions of affection. And he never drank alcohol. But on one occasion when a number of Mary's sisters and their husbands were visiting the Wilford and Sarah Finn home, Ken and a few of the other son-in-laws found a jug of hard cider in the basement. They drank it, got tipsy, and wandered upstairs where they started a good natured argument about who was Sadie Finn's favorite son-in-law. Family members who were there were laughing years later about the usually taciturn Ken Morgan putting his arm around his very stern and staight laced mother in law and declaring loudly and drunkenly that he was her favorite!
In the picture below Kenneth Morgan is milking cows in his "New" barn that was built in the late 1940's (between 1945 and 1948). The new barn was built of stacked 4 by 4's and was large enough to milk all his cows at once (about 15 or 20 cows). It had a second story hay loft where hay, stored for the winter, could be dropped through an opening and fed to the cows as they were milked. Ken milked cows twice a day most of his life, a job he seldom got a vacation from. The "Old" barn was much more primitive, with doors along the outside that could be opened so hay could be forked in to feed the cows. It was drafty and cold and snow used to drift in through the cracks. It was used as a tool shed for many years after the new barn was built.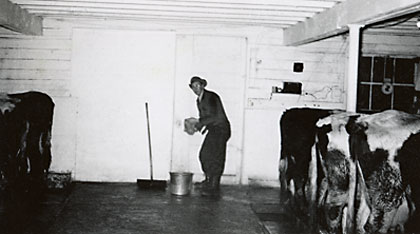 Farming, which included constant irrigation of crops and twice daily milking of cows year in and year out, occupied most of Kenneth Morgan's life. The loft in the new barn (the next floor above Ken's head in the picture above) was not used much to store hay in the later years after the advent of baled hay and the use Ken made of it was illustrative of his nature. He converted it to an indoor basketball court and it became a popular hangout for basketball playing local boys.
Click on the link above to be taken to the next page of the Kenneth and Mary Morgan Life history.