It was in the early 1950's that Ken and Mary made what was probably their worst financial mistake. They needed to increase the size of their small farm but had missed a couple of opportunities to buy adjacent land. It was here that their conflicts over spending bushwhacked them. Ken's casualness about spending frightened Mary, alarmed her Finn Family parsimonious instincts, and made her suspicious of his spending requests. So when he wanted to buy an adjoining farm, which was a vitally necessary investment, given the small size of their home farm, Mary could not be persuaded. This happened twice and the resulting buildup of tension and frustration between them led subsequently to a bad real estate purchase decision, a sort of doomed reaching out to buy something to make up for the ones they had missed. They bought 80 acres of new farm land at Mud Lake, a newly developing farm area about 35 miles from Rigby. But the sandy soil in the Mud Lake area did not lend itself to the kind of irrigation Ken understood, there was hardpan under the soil that kept the soil from draining, and travel between the two farms with equipment was time consuming and expensive. After a few money losing years they sold the Mud Lake farm. The lack of harmony between them on the subject of spending money sabotaged their attempts to accomplish the much needed enlargement of their small farm. This failure to enlarge their land holdings had grave consequences for their future, forcing them into menial, hard jobs in their declining years, and leaving Mary with a meager stake to keep her after Ken's death.
Wayne and Margaret sold their bee business in Idaho, bought another one in Montana, and moved to Montana in 1957. During the 1950's the three younger children were still at home and the small farm and dairy herd produced barely enough income. In the early 1960's, looking for a way to retire from the increasingly difficult farm work, Ken and Mary made their next worst financial mistake. They bought a grocery store and motel in the town of Ririe, Idaho. They lost money at an alarming rate and their son James, who was working at the Nuclear Site near Arco, Idaho, took it over to bail them out. Mary took a job sewing for the Bon Marche store in Idaho Falls.
Sheridan Evans, the plumbing contractor, had died so Ken no longer worked at plumbing jobs. He drove school bus until he beat a train across the tracks with the bus, was turned in, and quit rather than submit to questioning about the incident by the supervisor, his wife's younger brother John Finn. He was a very independent person, wild and free in his younger years, never comfortable with people, and had serious issues with authority figures, issues he never reconciled. As he moved into his sunset years, he withdrew even more; he just dug graves and it suited him well because he didn't have to deal with people or bosses. Backhoes were available but Ken and Walter Scholes (the sexton) didn't like backhoes and even though it was backbreaking work they mostly dug graves by hand. A Nephew of Walter Scholes, who knew them both, commented that he thought Ken liked digging graves with a shovel. It is true that Ken would take shovel in hand, focus his mind and will on the job at hand, and complete digging projects that others did not have the stamina for. This extraordinary exertion, however, wore out his lower back and hip joints before he was 60 years old.
It was at this point in Ken and Mary's lives that a serious, family problem began to surface. In raising their children they had been too harsh with the oldest children and too lenient with the youngest. This unbalanced approach, interestingly enough, produced an oldest son (Wayne) who was as genuine and generous a person as one could wish for but correspondingly produced a youngest daughter who was a spoiled, manipulative, demanding little princess whose belief that everything her parents owned belonged to her caused a great deal of family disharmony and ultimately fractured the family into hostile factions.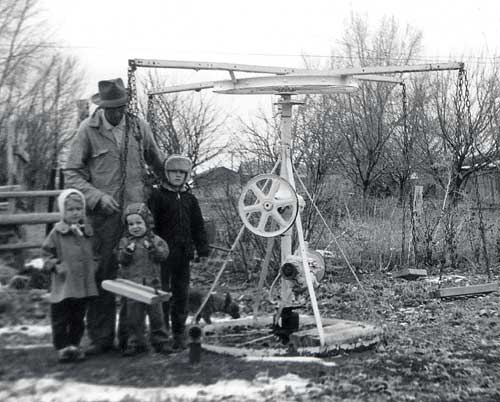 Ken enjoyed building playground equipment for his children and grandchildren. He is shown in the picture above with grandchildren Sheri, Kendon and Jay P Morgan and the mechanized merry-go-round he built out of a truck axle. It was turned by an electric motor (Which has been taken off in the picture), had a transmission with a gear shift so it could be run at different speeds, and was so popular that it was operated for the public several times at Rigby 24th of July Pioneer day celebrations. He also made a slippery slide, a rocking device and other toys. He made several scale model derricks of the type used to put up hay so the kids could play at stacking hay.
Ken and Mary did not get much vacation away from the farm work, particularly the cows, which were infamous for "going down on their milk" if there was a change in their routine. But they did occasionally take time for one of their favorite vacation activities during the 1940's which was a drive to Yellowstone Park to see the bears (which would come to your car for food in those days), camp at the Fishing Bridge campground, and fish on Yellowstone Lake. Ken had a camper that fit on the back of his pickup and a boat to pull behind. They hired Keith Hays to milk the cows while they were away on one of these vacations. When they returned they found milk cans piled against the back door of the house and a note telling them that Keith had been injured. Their son Wayne Morgan had a rope tied to a branch of a giant poplar tree along the road and a favorite thrill was to swing from a high treehouse on this rope. While Keith was staying at the house to milk the cows he had taken a great swing from the treehouse and the rope had broken, allowing him to sail to the ground and breaking both of his arms. People were responsible neighbors in those days, and others had taken over the milking chores to cover for the injured milker while Ken and Mary were away.
Ken loved Christmas and liked to build his own christmas displays. Shown below is the Santa and Reindeer display he made from plywood. It is mounted on a wall in front of the store at Ririe in this picture, but usually Ken put a ladder up to the roof of their two story farm house, put a plank between the dormers, and mounted this lighted display on the plank along with strings of colored Christmas lights.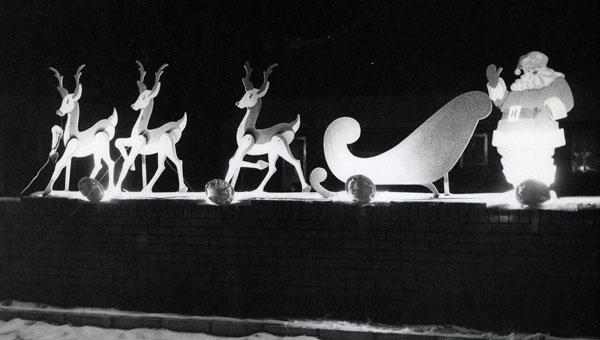 By the summer of 1969 Ken's back and hips had worn out from the many years of hard physical labor, and he was taking quite a bit of pain medication which was, in turn, hard on his stomach. He had difficulty walking so he usually rode a tractor up a lane alongside the irrigation canal when he went to change the water. On his last trip, when he was ready to return he backed the tractor up onto the canal bank to turn it around. He didn't get it stopped in time and the tractor began to roll backwards down into the canal. He was standing on the drawbar and using a hand clutch because his bad back made it difficult for him to sit and use the foot clutch. He couldn't reach the foot brake so he jammed the tractor into a forward gear, revved the engine, and engaged the hand clutch. The backward momentum of the tractor and the engine torque lifted the front of the tractor up and completely over backwards as the tractor hit the water's edge and Ken was crushed under the tractor at the bottom of the canal.
Immediately upon Ken's death Ken and Mary's youngest daughter and her husband, who were living with Ken and Mary at the time, looted the farm of many valuable things, an act of greed and selfishness that permanently disrupted family relationships. There is something about a death in the immediate family that can bring out vulture-like greed in people. This human trait has ruptured many a family and Morgan families have not been immune to it.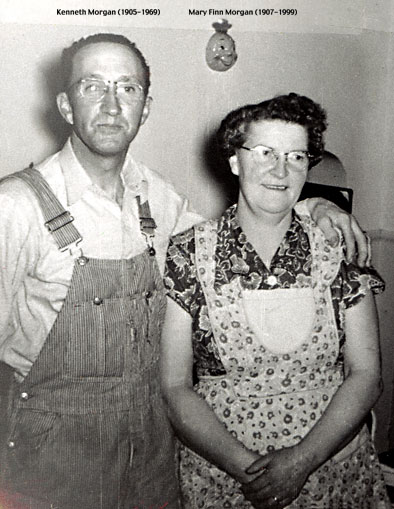 Shocked, discouraged, and tired of farming, Mary sold the farm and moved to a house on Dove Avenue in Rigby, where she lived out the rest of her life. It was a long and lonely thirty years for Mary and a period during which she contemplated and reassesed much of her earlier life. She was active and independent during those years, heating her house with a wood stove until near the end, taking fishing trips with friends, and staying active in the church.
In the late 1990's Mary began to fail, both physically and mentally. Once strong and independent, she became afraid to be alone, and became more and more helpless. A caretaker was hired to stay with her but Mary became ill and had to be moved to a nursing home in Idaho Falls where she passed away in the summer of 1999.
Click on the link above to be taken to a page with more pictures of the Kenneth and Mary Morgan family.