The age that Thomas Morgan gives in the 1851 census indicates that he was born in 1821, which fits nicely into the natural gap between his brothers William (baptized in 1819) and Joseph (baptized in 1823). This natural gap is due to the hormones produced in the body of the lactating woman which prevent further conception. As children were suckled for 9 to 12 months, there is normally an interval of 18 months to two years between surviving children.

Thomas Morgan's parents were married at Castle Frome in 1816 and their eldest daughter, Ann, was baptized at Castle Frome in 1817. Later baptisms recorded in the Much Cowarne Parish Register indicate that the Morgan family moved between 1817 and 1819 (from Castle Frome to Much Cowarne-a distance of about three miles), and again between 1819 and 1823 (from Shuters Bridge to Hopton Corner-also a short distance). Another aspect of the poor law may explain why the family moved around. Although one obtained settlement in a Parish by birth, this settlement could be altered if one worked for the same employer for more than a year. Thus, farmers would hire their laborers on a contract for 364 days to prevent them from attaining settlement in his parish. The workers, on the 365th day of the year would attend the local job fair, where they would obtain a "hiring" or contract for the next year, perhaps even with the same employer if they had proved a satisfactory employee. The Morgans would have moved to, and lived on, the farm where they worked, according to custom of the time.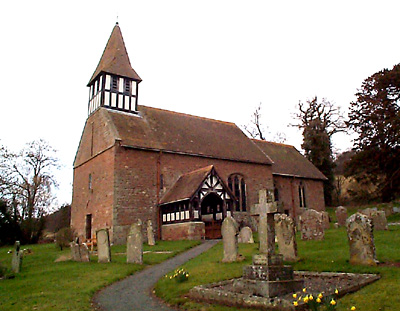 The Castle Frome Church. Thomas Morgan's parents were married in this church in 1816.
So it is possible that the Morgan family was living some distance away from Much Cowarne when Thomas was born and we haven't yet located the record. However, it is much more likely that, like his two following siblings, he was baptized by the Rector of Stoke Lacy, and the event was never entered in the Much Cowarne Parish Registers. Perhaps the Rector forgot to send the certificate or perhaps it was mislaid at Much Cowarne before it was added to the register. So the mystery of Thomas Morgan's missing birth or baptism record remains unsolved and the best we can do is share with him his belief that he first saw the light of day in Much Cowarne. Those who have searched for his birth record feel there is little reason to doubt him.