When Thomas Morgan was about 30 years old he joined the Mormon Church and, despite fierce opposition from his wife's family, he and his wife Ann brought their family to America, initiating through great sacrifice and hardship a new era of opportunity for their Morgan descendents. Without gratitude and appreciation for those who laid the foundations for the now we live in, it is easy to lose perspective on the difficult journey of life. Our pioneer forefather's challenges were physical but our challenges are mental. It is vital for us to understand how much Thomas Morgan, his wife Ann Watkins, and their children contributed to our lives by conquering their physical challenges and helping to build the infrastructure we enjoy today. When they chose to change the terrain upon which the battle was fought they chose a terrain with much higher risk and hardship but with a correspondingly higher potential for reward and gain. They reached for higher goals, spiritually and materially. Their decision to emigrate laid the foundation for who and what our Morgan Family in America is today. Their history can be an inspiration to us and their strength can underpin ours as we face our own life challenges.

In the fall of 2003 James and Josephine Morgan traveled to England to investigate the country of Thomas Morgan and Ann Watkins' origin. Thomas and Ann were unique people whose lives have had an impact on the lives of their descendents and on many others as well. There is a need to find more information on Ann Watkins and to clear up the misinformation that has crept into Thomas Morgan's record over the years. Thomas Morgan and Ann Watkins came from a small area in Herefordshire about ten miles northeast of the city of Hereford. The three Horseshoes Inn, a bed and breakfast at Little Cowarne, in a rural setting on the western edge of the small area where Thomas and Ann lived, provides an excellent base to work from. The primary research resources are the records office in Hereford, the local history center in Bromyard, and the local parish churches. In an investigation of this sort the help of a local guide is invaluable. Polly Rubery BSc., a family historian living in Herfordshire, has long been interested in Mormon emigrants from Herefordshire. Her John Rowberry family was baptized in Herefordshire in 1840 by the famous Mormon missionary Wilford Woodruff. Polly has made a special study of the Mormon emigrations, teaches courses in family history, and manages family history websites for herself and the Herefordshire Family History Society. Polly was essential as local guide and interpreter to help the investigators understand the nuances and complexities of Herefordshire culture and history.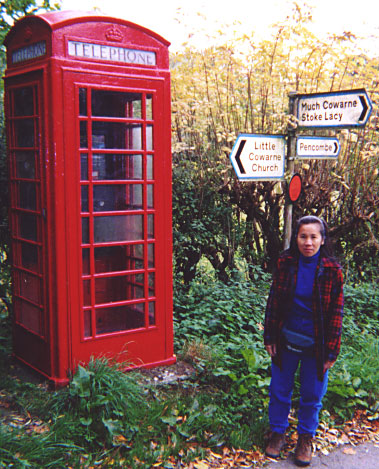 The part of Herefordshire that Thomas and Ann Morgan came from is rural farm country with hedgerows along the roads and between the fields. Unlike other parts of England and Scotland, it does not have extensive stone walls between the fields. The roads are narrow and the villages are small.
In the 1851 Herefordshire census, Thomas Morgan states that he was born in Much Cowarne. This simple statement requires some explanation if one is to understand Thomas Morgan's origins. The name Much Cowarne, as currently used, seems to have originally meant large, or many, cow barns. And nearby Little Cowarne, fewer, or smaller, cow barns. The terms "much" and "little" also refer to the relative size of the two parishes, much (magna or great) being the larger and little (parva or lesser) being the smaller. In any case our Herefordshire heritage was definitely of an Agricultural nature.
Herefordshire lies on the western boundary of England. It is bordered on the west by Wales. Hereford, which has a cathedral, is the only city in Herefordshire (traditionally, in England, only a town with a cathedral is considered to be a city). The area of Thomas and Ann Watkins Morgan's origin is hilly farmland lying about ten miles northeast of Hereford. It lies on the east and west sides of the River Frome as it runs southward from Bromyard. The area is small, about 8 to 10 miles square, generally encompassing the villages of Little Cowarne, Much Cowarne and Bishops Frome.