The picture above summarizes much of the history of the Kenneth and Mary Morgan farm. The original house was made of red bricks but has been stuccoed over and painted in this picture. Originally it was square and the kitchen, which extended the house to the rear and out a bit to the right side, was added after Kenneth and Mary bought the farm. The "new barn" can be seen in the background. The schoolbus that Ken drove can be seen on the right side. He always had trouble backing the bus up and was constantly knocking down the white pickett fence as he backed the bus out of the driveway. Some backup damage can be seen at the corner of the fence. The upstairs dormers on the front of the house are where Ken placed a plank so he could mount his Christmas display. There were four bedrooms upstairs where the children slept. There was no heat up there, except for a hole in the floor that had been cut to let heat come up from downstairs, and an old woodstove.


In later years (early 1960s) a large electric power transmission line was built across the farm. One of the towers can be seen to the left of the house in the picture above.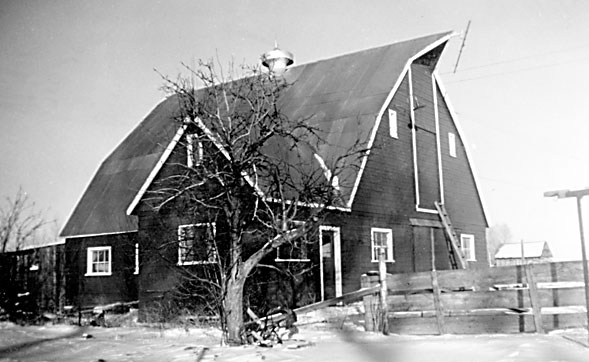 In the picture above is the "new barn" that was built in the 1940s (The oldest picture we have of it was taken in the fall of 1949 so we know it was built after wayne came home from the navy in 1945 but before 1949). The granary for storing grain can be seen in the background on the right. At left was a loafing shed for the milk cows. Originally there was a pully and carriage system that lifted hay up and then back into the loft for storage. In this picture a section of the rail that the carriage rolled on is hanging loose out front. The large loft door could be opened by allowing the upper panel to slide down. The small room on the corner closest to the viewer was the milk house where the milk was processed. At one time the family outhouse stood just in front of the old apple tree in the foreground, there was a root cellar to the right of the apple tree, then to the right of the path beween the barn and house was a set of plum trees and a woodpile. All were long gone before this picture was taken. This new barn was Ken Morgan's pride and joy and it was the focus of much of his life on the farm. When he was not in the fields he was in the barn.