This picture appears to have been an attempt to gather some of the children of Melvin and Julia Elizabeth Smith Ross (his first wife who died as a result of an accident) together in one picture. The three, Silas, Mary Ester and Don, were children of this first marriage. However, the woman sitting front center is Julia Elizabeth Ross, the oldest daughter from Melvin's second marriage (to Mary Ellen Haddon). Julia Elizabeth Ross is the logical sit-in because she was named after her deceased mother Julia Elizabeth Smith Ross.
At left is Silas Ashel Ross, born 17 June 1875 in Leamington, Millard, Utah. He died on 18 October 1976 in Sevier, Utah.
Center rear is Mary Ester Ross. She was born on 14 March 1873 and died on 2 April 1950.
At right is Don Carlos Ross. He was born on 18 April 1867 and died on 27 October 1918.
Sitting front center is Julia Elizabeth Ross, born 14 January 1883, died 18 January 1967.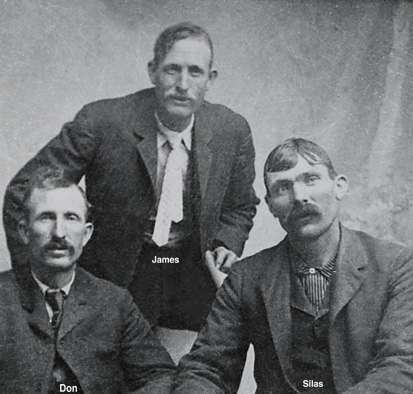 In the picture above are Don, Silas and their brother James Ross.
James Melvin Ross was born 16 January 1869 in Oak City, Utah, married Elizabeth Hallett in October 1891, and died 25 July 1937.