Edward Thomas Radford married a daughter of Susan Augusta Byington Wilbur, the woman who married his grandfather Thomas Morgan late in Thomas's life. Edward Thomas was born 6 Oct 1873 in Leamington, Utah, married Wealtha Permila 24 November 1898, and died 20 Dec 1942. Wealtha Permila (pearl) Wilbur Radford was born 26 November 1880 and died 12 January 1919. Children in the picture are, left to right, James LeRoy, Ako Oren, and Franklin King Radford.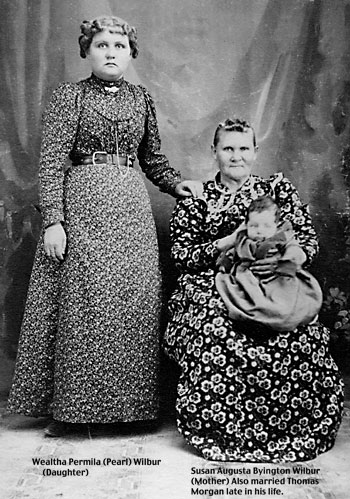 Susan Augusta Byington Wilbur was well acquainted with the Thomas Morgan and John Whitlock Radford families. She married Thomas Morgan late in her life. Her daughter Ruth Wilbur married Thomas Morgan's son James John Morgan and then, after James John died, she married Thomas Morgan's son William Morgan. And her daughter Wealtha Permila (we are not sure if Permila is spelled with one l or two l's) married the grand son of Thomas Morgan and John Whitlock Radford, Edward Thomas Radford. Susan died in 1919, four years after Thomas Morgan died.
Click on the links above to see pictures of three children born to the marriage of Edward Thomas and Wealtha Permilla Radford.
Click on the link above and scroll to the bottom of the page to see a large picture of Thomas Morgan's extended family taken soon after he died. Susan Augusta Byington Wilbur Morgan is sitting in front