Joseph Lavier Morgan was born 25 October 1905 in Labelle, Jefferson, Idaho. He married Alverda Martha Rhoades 1 June 1926 in Idaho Falls, Bonneville, Idaho. She was born 17 August 1907 in Teton, Madison, Idaho. She was the daughter of LeRoy Everett Rhoades and Christianna Wann Shelton. Joseph Lavier died in Twin Falls, Idaho 4 June 1979. Alverda died 3 August 2001 in Twin Falls, Idaho.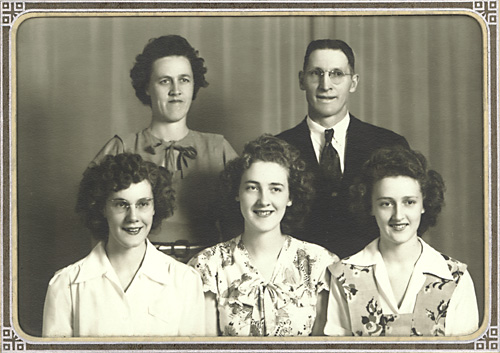 Standing, rear, L-R: Alverda (Verda) Rhodes Morgan (1907-2001), Joseph Lavier Morgan (1905-1979). Sitting front, L-R: Carol Joyce Morgan (1928-), Ellen lathel Morgan (1927-), Marva DeEsta Morgan (1930-).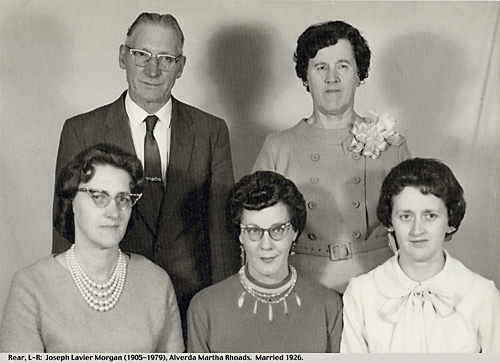 Joseph Lavier and Alverda with their daughters.
Life history for Joseph Lavier Morgan written by daughter Marva Marsh.
Joseph Lavier Morgan was the fourth child born to Josephine Fogg and John Thomas Morgan on October 25, 1905, at LaBelle, Idaho. He was named for his uncle Joe (Joseph Charles) Morgan. He had three brothers: Ezra, Clyde and Leo; four sisters; Viva, Ida Mae, Cleo and Sylvia. Cleo and Leo were twins. Leo died as an infant. Joseph Lavier was delivered by a midwife at home and a log cabin was his first home. The family later moved to Poplar, Idaho.
While a child in Poplar he rode horses or walked more than two miles to school. In winter he skated on the Anderson Canal. Each Christmas he asked for a new pair of skates as the old ones were worn out. He played ball, which resulted in a broken nose one time. He herded cows on the Snake River bottom, swam in the Anderson Canal and at Heise Hot Springs. His father farmed 160 acres of land raising mainly hay and grain. His youth was spent on ranches around Poplar and then they moved to Lehi, Utah.
Uncle Joe (Joseph Charles) Morgan baptised him a member of the Latter Day Saint Church when he was 8 years old. This took place in the Anderson Canal. The church house was a frame building. He went to church in a white top buggy or horse back. His parents would take the whole family to Rigby to conference, take a lunch basket and stay all day.
On July 4th, 1925 he met Alverda Rhoades. They were married 10 months later, in June 1926, in Idaho Falls, Idaho. After they were married Joseph Lavier worked on the section gang for the Union Pacific Railroad. This work required him to move occasionally. On March 8TH, 1927, A little girl who they named Ellen Lathel was born to them in Cokeville, Lincoln, Wyoming. After several years working for the railroad, they moved back to Idaho Falls where Joseph Lavier worked a short time for his uncle, Alvin Cole, on a ranch in Milo, Bonneville, Idaho. Following that job, they went to Ririe where Joseph Lavier again worked on the railroad.
Carol Joyce was born Christmas eve 1928 in Idaho Falls. Marva DeEsta was born September 9, 1930 in Idaho Falls. Shortly thereafter grandma Morgan became very ill and had to have an emergency appendectomy, and she remained ill for quite some time.
In 1932 they moved to Ririe, where Joseph Lavier drove truck for his cousin Eldon Terrel, hauling grain, hay and coal back from the Price coal mine in Utah. He had to spend a lot of time away from home and his family missed him very much.
In the spring of 1941 they moved to Twin Falls, Idaho and started working for Roy (James LeRoy) Radford, his brother-in-law, doing construction work. In 1947 Joseph went to work for Western Condenser in Twin Falls, a facility that condensed whey into powder. In the same year they bought one-half an acre south of Twin Falls where he built a basement, blasting out rocks and moving them by hand. In 1957 they finished the upper part of the house. In 1950 they made a temporary move to Arco, Idaho to work on construction work at the AEC (Atomic Energy Commission) plant. He worked in construction in Idaho, Utah, Wyoming and Nevada.
In November 1968 he was in Battle Mountain, Nevada, when he broke his leg. He spent two months there, then was brought home and had to spend two more months in bed before the cast was removed. After his recovery he did carpentry jobs around Twin Falls. This he continued to do until his health failed. In 1978 he wanted his children and grandchildren to see some of his handiwork, so we all went to Jackson Hole, Wyoming, where he showed us a cinderblock house with a huge stone fireplace which he had helped to build with his brother Clyde.
Joseph Lavier loved to fish and he enjoyed going with his family and friend on such outings. Our grandfather had a great sense of humor. He gave readings and told stories at Christmas time or any other time we were together. Our favorite reading was "The Chinese boy and the Bumble Bee." He went through comical actions while giving it. Grandpa was never known to criticize other people. He never complained of hard times or the pain which he had to bear even though he had several surgeries and was very ill these past few years. He passed away June 4, 1979, at Magic Valley Memorial Hospital in Twin Falls.
Alverda died 3 August 2001 in Twin Falls, Idaho, at age 93. Her obituary in the Twin Falls Times, 4 August 2001, states that "she grew up in Menan and Roberts, Idaho....was an active member of the Twin Falls LDS Church, especially the Relief Society and Primary. She was also a member of the Daughters of the Utah Pioneers through her mother. She found joy in needlework and baseball as well as family activities. She was survived by three daughters, 10 grandchildren, 25 great-grandchildren, and 19 great-great-great grandchildren.
The children of Joseph and Alverda Morgan are:
Ellen Lathel Morgan, born 8 March 1927 in Cokeville, Lincoln, Wyoming. She married 31 March 1944 in Twin Falls, Idaho to Madison Hayes, who was born 23 November 1918 in Humphreys, Sullivan, Missouri, son of Clarence Hayes and Bessie May Sharp.
Carol Joyce Morgan, born 24 December 1928 in Idaho Falls, Bonneville, Idaho.
Marva DeEsta Morgan, born 9 September 1930 in Idaho Falls, Bonneville, Idaho. She married 23 January 1949 in Twin Falls to Milford Marsh, who was born 1 June 1927 in Mutual, Woodward, Oaklahoma, the son of Henry Isaac Marsh and Nettie Pearl Jones.
Click on the link above to return to the John Thomas and Josephine Fogg Morgan page