Sadie Geneva Radford Durrant born 13 Nov 1898 in Shelly, Idaho. John Roland Durrant born 20 July 1879 in Lyman, Uinta, Wyoming. They were married 12 April 1916. Sadie died in 1968 and Roland died in 1979. They were active in family affairs, attending family reunions regularly. They collected, and passed on to us, a great collection of Morgan/Radford/Ross family pictures.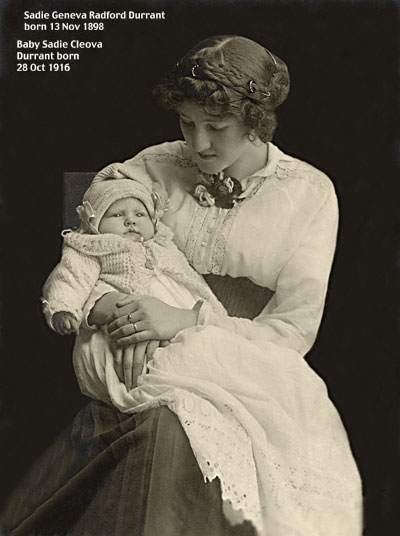 Sadie Geneva Radford Durrant and her baby Sadie Cleova Durrant, born 28 Oct 1916 in Perry, Jefferson, Idaho. Perry is now called Clark, a small community between Rigby and Ririe, Idaho.
A classic mother/baby picture, taken in 1916 or 1917, beautiful enough to hang in a museum.
The baby in the picture above, Sadie Cleova Durrant, married Narvel Scott Johnson who was born 29 Jan 1912. Many membersof this family can be seen in a large family reunion picture that can be accessed by clicking the link below: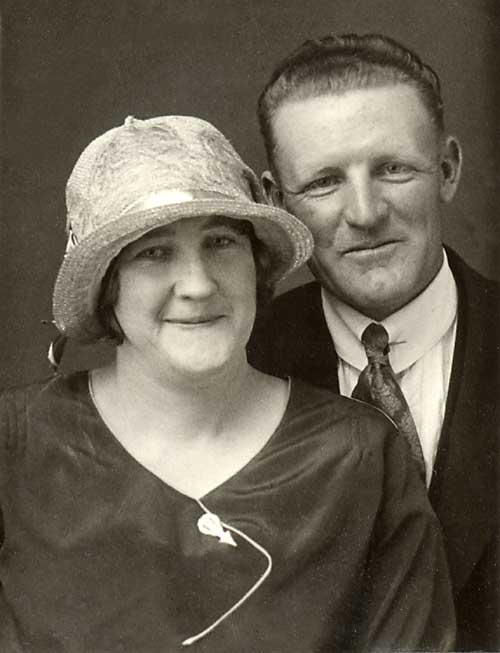 Sadie and Roland in a portrait where they look the way we remember them.