In the picture above are, back row, left to right: Florence Johnson Moore (1909-1999)(Wife of Ralph Moore), Edris Lee Moore (1908-2004)(Wife of Willard A (Bill) Moore), Nora Ryset Moore (1889-1964)(Wife of George Moore), Alice L. Brown Moore (1894-1973)(Wife of Wesley Moore), Annie Moore Ritter (1894-1968)(Wife of Jessie Clay Ritter), Florence Moore Jordan (1899-1973)(Wife of Melvin Robert Jordan), Nellie Mae Morgan Moore (b?-1955)(Second wife of Ernest Moore), Violet Viola Ryset Moore(1891-1973)(Wife of John Moore), Florence Manwaring (1911-1996)(Wife of Reed Moore). Front Row, left to right: Ralph Moore (1896-1974)(married Florence Johnson), Willard A (Bill) Moore (1890-1967)(married Edris Lee), Ernest Moore (1887-1966)(married Viola Cole), James Reed Moore (1907-1989)(married Florence Manwaring), Melvin Robert Jordan (1895-1966)(married Florence Moore).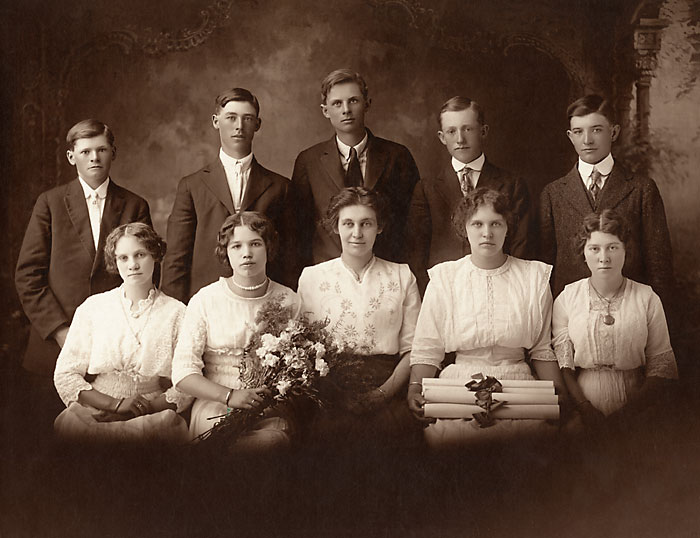 In the picture above are, back row, left to right: Elmer Williams, Johnnie Burtenshaw, Dewey Ferguson, Earl Riches amd John Lovell. Front row, left to right: Elizabeth Williams, Etta Burtenshaw, Gertrude Story (Teacher), Zella Priscilla Ryset, Florence Moore. Picture made 1914.
Zella Priscilla Ryset was a daughter of Francis Daniel Ryset and his wife Sarah Priscilla Morgan Ryset. Zella was born 15 July 1899 in Shelton, Idaho, married Loren Josiah Marler 5 November 1917, and died 29 November 1964.
Florence Moore was the Eleventh child of John Thomas and Annie Andersen Moore. She was born 14 May 1899 and died 31 July 1973. She married Melvin Robert Jordan 25 September 1920.