Lenard Rex Nield (1927-2005)and Beverly Toone Nield (1928-2005) taken at their wedding 12 October 1949.
Life Sketch for Rex and Beverly Nield (short version)
Lenard Rex Nield was born 7 Oct 1927 to Orlean and Lenard Nield in Idaho Falls, Bonneville, Idaho while Lenard and Orlean lived at a place called Oakland Valley, about ten miles out of Idaho Falls. Later the family moved to Ammon, Idaho, about two miles from Idaho Falls. Rex and his brother Delbert helped run the dairy, called Sunrise Dairy, that the family owned there. Rex and Delbert drove a truck load of milk to Idaho Falls in the morning, and delivered it, before they went to school. Rex married Margaret Beverly Toone 12 October 1949 in the Idaho Falls LDS temple. Next Lenard and Orlean Nield and all their married kids (the first four-Including Rex and Bev) moved to Victor, Montana where they bought a farm and a hundred milk cows. Rex and Beverly moved to California from Montana and then later moved to Washington. Rex was an active member of the Church of Jesus Christ of Latter Day Saints. He served as a Bishop in Missoula, Montana for eight years. He died in Kennewick, Washington 26 July 2005. His wife Beverly preceeded him in death by three days. Rex and beverly were buried in the Fielding Memorial Park in Idaho Falls, Idaho.
Life History for Lenard Rex and Beverly Nield
by Tana Pratt
Lenard Rex Nield was born October 7, 1927 to Orlean Lovina (Morgan) Nield and Lenard Nield. He was born in the car on the way to the hospital in Idaho Falls. He has two brothers, Delbert and Steve Nield, and three sisters, Bonnie, Doris and Renae. Lenard and Orlean were not married in the temple at first, but they took their first four children, Rex, Delbert, Bonnie, and Doris to Logan, Utah in March of 1940 and were sealed in the Logan Temple. Renae was born October 7, 1947 on Rex's 20th birthday and then Steve was born two years later. All the children were born in Idaho Falls (Idaho), the first four actually grew up in Ammon, Idaho and when Steve and Renae were about three and five the moved to Montana and grew up there.
While Rex was in high school a few of his friends and him decided to join the armed forces. His friends were all accepted into the military and left him behind. Rex was rejected from the army due to a heart murmur. He had a heart murmur that was discovered some time while he was in school, therefore he could not play on the basketball team even though he enjoyed basketball. So he took up boxing instead. After he graduated from high school he went on to attend college in Moscow, Idaho. When he came home he decided to try once again to join the armed forces and decided to try with the Navy this time. He was accepted and went to Florida during World War II. He was a photographer for the Navy. He came home and found a job as a photographer for the Post Register (the Idaho Falls newspaper). He then met Beverly and they were married October 12, 1949 in the Idaho Falls Temple. They received their endowments in the Salt Lake Temple the day before due to some remodeling going on at the Idaho Falls Temple. They lived in the Idaho Falls area for a short time when Rex was called back into the service to San Diego, California during the Korean War to work as a photographer in the Navy. There he met some dear friends Ferry and Patty Fischer and Bill and Peggy Durham.
At some point Bev's parents decided to move to California from Idaho Falls, and were not too far from them when Bev and Rex lost their first son in June of 1952. On the headstone of this little one it says "Baby Boy Nield," they never really named him because he was a stillborn baby. Later they told the kids they would have named him Stacy.
In just a short time the Korean war ended and so they moved to Montana to help on the dairy farm there with all the Nield family. In 1955 they were in Long Beach, California near Bev's family once again. One day as Rex and Bev were talking they decided they did not want to raise their children in California so they moved back to Montana. They were in Victor or Stevensville until 1959 or 1960 when they moved into Missoula. Beverly still liked her doctor in Hamilton so when she was expecting again and had moved into Missoula she wouldn't change doctors, she kept traveling the 20-30 miles to Hamilton for each of her doctor appointments. Leslie (Les) Duane was born just 8 minutes after arriving at the Hamilton Hospital. Rex drove over 100 mph to get there as soon as he could. They even beat the doctor there. After that she did change doctors so she could be right in Missoula all the time. In September 1962 Rex and Bev had another stillborn baby boy. Again the headstone of this little one says the same as the very first one they lost, "Baby Boy Nield" and later they told us they would have named him Gary. Stacy was buried in San Diego and Gary was buried in Victor, Montana. In 1964 they completed their family with one more daughter, Tana Louise. Seven children in all - 4 boys and 3 girls- five of them would enjoy many wonderful experiences together with their really fun and very loving parents.
When Rex and Bev lived in California the second time Rex worked for North American Aviation as a photographer or a lab technician. He also had met someone in the Navy that was well skilled in carpentry work and Rex was very interested in that. So this man got Rex interested in woodworking and they opened up a cabinet shop in California. It seems to me that Rex went to a trade school to learn more about woodworking or he worked as an apprentice in a wood shop to learn and improve his own skills to better run the cabinet shop. I'm not sure exactly how that went.
The other interesting part of their story when they went back to California was that Rex only had $100.00 to his name. He had no job, nowhere to live, and wasn't sure how to provide for his family with only $100.00. The first day he was there he found a house for $9,000.00 with only $100.00 down. I'm not sure if his Father-in-law or if our Uncle Bruce helped him find a job at North American Aviation or not. Uncle Bruce worked there and my Grandpa Toone worked for Douglas Aircraft so it is likely they may have put in a good word for him. But he found a job the first day he was in town. They were set. In addition to school, work, and family obligations he found time to be on a bowling league that met way late each night. I guess farm life growing up mad him so he didn't need much sleep during this time. He was used to going to bed late and getting up early.
In Montana Rex and Bev helped on the farm, but at some point Rex decided to go to work at a lumber company owned by Art Skaggs. He didn't like getting late paychecks and dealing with some of the other challenges this company had, so he decided that he would open up his own lumber company and called it "Rex's Building Materials." He ran this business for 10-15 years. In the mid to late 1970's several lumber companies and mills were closing down, inflation was killing their profits. Rex also had a couple of people not pay their bill and therefore he was forced to close down his business as well.
Rex and Bev must have come back to Montana soon after Kenny was born because I was told that Rex was on the high counsel for 10 years and Bishop for 8 years. He was released as Bishop in July of 1976, so from 1958-1968 he would have been on the high counsel.
In March of 1977 with only Les and Tana at home now, Rex and Bev moved to Elk, Washington. That's about 30 miles North of Spokane. Rex built a house in Spokane with a lot of help from Les. Then, in October 1978 he moved his family right into Spokane (Millwood Area) so he could be closer to work and get his family into a nicer home. Soon this house would be finished and then Rex would be out of work, so he began searching for new employment. He found a job as a craftsman for the City of Richland. In April of 1979 his family moved to Kennewick, Washington. November/December 1979 he then moved to Richland to be closer to his work. December 1982 Rex moved his family back to Kennewick. I believe Rex went back to Kennewick because he wanted a little bigger home and I believe he had been renting for a while and had an opportunity to become a home owner once again. In 1992 he moved into a manufactured home and lived there until he passed away July 26, 2005.
By 1988 Rex had to take an early retirement due to a heart condition. He'd had a heart murmur all his life, but in March 1978 he was in the Spokane hospital having a baloon treatment to unclog his arteries. Between then and fall of 1988 he had a least five, maybe six of those baloon treatments. I know they also went in a couple of other times up through his groin to see where other problems were coming from and so I think my mother told me they went in a total of 8 or 9 times within a little over a years time to correct his ever closing up arteries. Once they thought his arteries in his neck were clogged, so they went in, but found nothing. He had had a priesthood blessing right before he left for Spokane. His LDS doctor asked if this was the case and said "Rex you've been really blessed, you're fine." In the mid 1990's a pace-maker was put in and then in 1998 they went in to do a 5 by-pass heart surgery and came out doing 6. Several employees at the city of Richland really liked Rex a bunch and with all the time he was off work in 1987-1988, they worried about how he was getting by financially. Several people donated some of their sick leave and vacation time to be paid out to Rex to help him out. He was ever so grateful for their generosity. In about 1980 or 1981 Rex became a diabetic, which later caused slow healing of several sores he'd get on his legs. He'd often get cellulites in his legs, which can be pretty painful. Once he was retired he had his own little woodworking shop in his garage and he did a lot of gardening. Even though at times when he was hurting he'd say "I can hurt sitting down and do nothing all day, or I can hurt and get something done-either way it hurts but I've got things to do, no time to waste." He had a really good attitude.
Rex loved going camping and fishing with all his family. He liked to travel and went to several places, which he totally enjoyed. He liked to see new places and try new things. I remember as a young child that he decided to try a new recipe once a month or once a week and sometimes I would rather had my mom cook instead. Sometimes it was good though. Once the grandkids came into his life he tried really hard to continue to be a part of their lives too, trying to attend blessings, baptisms, graduations, missions, and weddings as much as he could. He loved this because then he had good reasons to be on the road again. When he died he had 20 grandchildren and almost 20 great grandchildren. Now there are 24 soon to be 25 great grandchildren. He was also known to have a great sense of humor, told some pretty funny jokes, and loved his cribbage and pinochle games. When he died he was just getting prepared to take some computer classes so he could learn and understand how to use them better. He loved his wife, Beverly, so much and tried to do all he could think of to help her fight four battles of cancer, which the last battle took her. She was too weak to fight any more with being a diabetic also and with macular degeneration in her eyes she couldn't do much any more. She was tired. In life you very seldom saw them apart from each other and when Bev died, the separation was too great. They needed to serve their next mission together, he died 3 days after his sweetheart and they were buried together in Idaho. They gave their children fun memories to be cherished forever. He was a fighter, always said, "We'll get through this too. Whatever the ailment, we'll fix it and continue to live life to the fullest." And they did. They both died with testimonies of the Savior, Jesus Christ, and loved the gospel and were so grateful to have all their children married in the temple and sealed as eternal families. Their greatest sadness is when any of their posterity fall away from these great and eternal truths. When they quit making good choices and they can see them wandering off the straight and narrow path. The greatest desire they have is that no one will be lost and everyone will be together after this life. That is their true joy.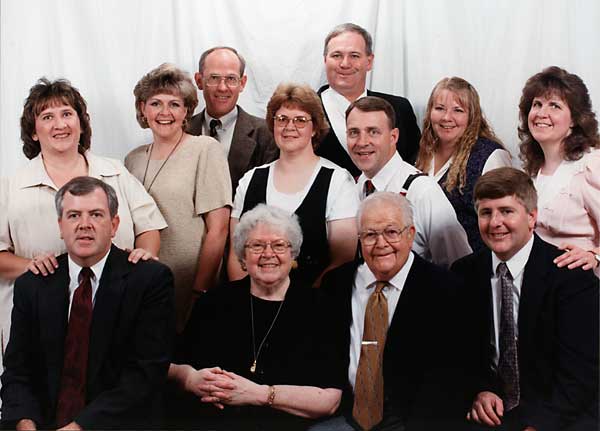 In the picture above are: Back Row: Blair Dance, Davie Swensen. Middle Row: Pattie Nield, Laurie Dance, Tana Pratt, Bruce Pratt, Cathy Swensen, Mary Lou Nield. Front Row: Kenny Nield, Bev and Rex Nield, Les Nield.Picture taken October 1999 at their 50th anniversary party.