Picture taken February 1956 at the Kenneth and Mary Morgan home in Rigby, Idaho. Glen and Dorothy (Dot) lived in the Rigby and Ririe area.


Glen Radford was born 1-28-1909, died 6-15-1986. Dorothy Radford was Born 3-22-1914, died 1-2-1990. They were married 11-5-1929; sealed with all the family in the Idaho Falls, Idaho Temple 3-14-1951.
Children of Glen and Dorothy Radford were:
(1) Son James William, born 3-14-32, died 1-15-67.
(2) Son Lynn Edward, born July 4, 1934.
(3) Son Vardus Wayne, born 1-17-1936.
(4) Daughter Ruth Louise (Widow of Frank Gibbons) born 4-5-1938

Places they lived in order which they lived there: Burton/Independence (Madison County), Clark (Jefferson County), Rigby (Jefferson County), Garfield (Jefferson County), Ririe (Jefferson County, Clark (Lee farm, Jefferson County), Clark, east of the Clark Church House until time of death.
Glen's vocation was lifetime farmer. He also worked at the U & I Sugar Factory in Rigby, in various spud houses, and as a night watchman. Dorothy worked at the White Star Laundry and other similar occupations.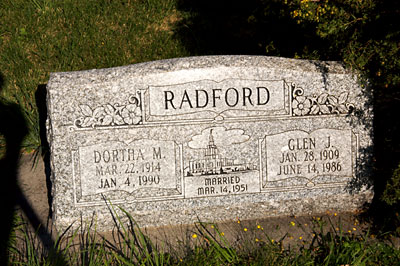 Glen and Dot are buried in the Shelton, Idaho Cemetery.