These pictures were found in Lydia Almeda Morgan Nowlin's collection which has been handed down to a descendent in Canada. Written on the back was "The Antelope Ranch." George Nowlin's father, Jabus Nowlin, owned a ranch in the Antelope area at the time that Lydia Almeda married into the Nowlin family so these pictures are most likely of the Nowlin ranch where George Nowlin would have grown up.
In the picture above is a man holding a horse out in the road, and a woman with two children in the yard. The house is typical of houses our ancestors built on their farms after they became established there. The first houses were very rudimentary, often just dugouts. The next generation of houses would have been log cabins. And the house above would have been either a remodeled log cabin or wood house built larger and with more room than the log cabin. To the left is a dark building that was used as a loafing shed for animals, and next to it, a barn that appears to be a horse barn.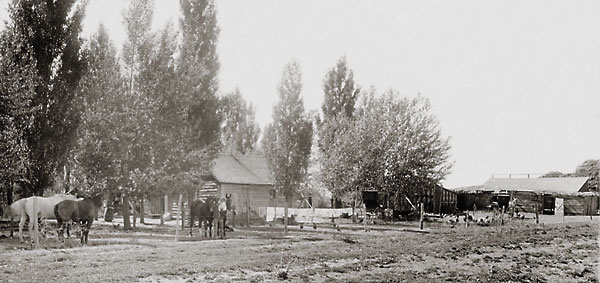 In the above picture of the Antelope Ranch barns and outbuilding a man is standing, between the heads of two horses, holding a child. The building directly behind him is a log building which was probably the first real house on the ranch. Turned up at the edge of the log building is an old washtub of the type that was commonly used for everything in those days, but especially for washing. And the wash is hanging on the clothes line to the right of the building.
Sitting in the yard, farther to the right, are two buggies, one with the white horse still hitched to it. Behind the buggies is a granary of the type commonly built in those days. It is wood frame with wood plank walls covering the inside of the studs but no covering over the outside of the studs. And farthest to the right is another log building that appears to be a barn. Most likely the cowbarn where the cows were milked.