Emily was the third child of Joseph Charles and Melissa Bassett Morgan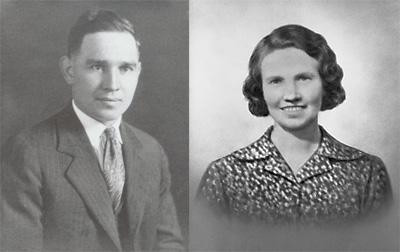 Emily Jane Morgan was born 12 October 1908 in Teton City, Madison County, Idaho, and died 26 June 1945 in Wendell, Gooding County, Idaho after a short illness. She married George Howard Pitman 30 October 1929 in Salt Lake City, Utah. He was born 17 October 1901 in Ucon, Bonneville County, Idaho, a son of Sidney Pitman and Elizabeth Billman, and died in Twin Falls, Idaho, 5 March 1985.
The following extracted from a life sketch of Emily written by Isabelle (Belle) Pitman Knowles

As a young girl Emily lived in Poplar, Idaho, and Belle Pitman, lived in Ucon, Idaho, some 15 miles apart. The two first got acquainted when Belle spent summers at her sister Mattie's home in Poplar. Coincidentally both families, the Pitmans and Morgans, later moved to the western Idaho town of Emmett, where Emily and Belle again formed a close bond. Belle mentioned that the two worked together canning fruit and other jobs when living in Emmett. When the Morgans moved from Emmett to Montour (about 10 miles east of Emmett) in about 1925, Emily moved in with Belle and her husband, Leo Knowles. Emily stayed with Belle when she had her first baby, and she helped other mothers in need while living in Emmett.
Emily's sisters remember her as hard-working, neat, clean, conscientious, and thrifty. She often worried about her father's debts and tried to help her financially troubled family by preparing foods and making clothes and useful gifts which she took to them every time she visited them when they lived in Montour.

In 1927 the Morgan family moved to Glenns Ferry, about 80 miles east of Emmett. This time Emily went with them, but returned again to Emmett in 1929 to help Belle when she gave birth to her second child. Belle arranged for her brother George Howard Pitman to drive Emily from Glenns Ferry to Emmett. On this occasion, Emily and Howard became acquainted, romance later blossomed, and they were married 30 October 1929. They drove all the way to Salt Lake City to get married in the LDS temple there
As a married couple Emily and Howard first settled in Emmett, where Howard worked as a carpenter. But in the spring of 1932 they decided to move to a farm in Dietrich, Idaho, adjacent to where her Morgan family had moved the previous year. In 1935 Belle came to Dietrich, about 150 miles from Emmett, to help Emily with the birth of her third child, Marvin. That same year, Belle and Leo Knowles decided to move to a farm adjacent to Emily and Howard's farm in Dietrich. So for several years before her death, Emily and her family lived as neighbors to her parents and siblings adjacent on the east, and in-laws Belle and Leo's family adjacent on the west of the Pitman farm. This close proximity allowed Emily to continue to help her ailing mother and the Morgan family, and to continue to get help from Belle when Emily bore her two youngest children.
But in May or June, 1945, Emily began suffering from abdominal pain. She was taken to the hospital in Wendell, Idaho, where she had a hysterectomy. However, her abdominal problems had been misdiagnosed. She was actually suffering from a bowel obstruction which poisoned her system with gangrene. She died at the hospital 26 June 1945 at age 37, leaving behind a widowed husband with five small children.
In the words of their son Dale Pitman, in A History of Dietrich, Idaho, pages 204, 205 by Jessie Lagrange Gard and others, published in Dietrich in 1998:
Howard and his wife, Emily, moved to Dietrich in the spring of 1932. The family had previously lived in Emmett, Gem, Idaho, where Howard had done carpentry and heavy construction work. Howard brought his carpentry skills to Dietrich, although his primary occupation was farming. At Dietrich he built a home and farm buildings for his and Emily's own family near the home of her parents. Through the years Howard helped many other families build or remodel their homes, and with other building projects. He also helped build the Dietrich school after the previous one burned in 1934. In the 1930's and 40's he built several concrete bridges over local irrigation canals.
During the 1930s Howard was the ditchrider for the local Big Wood Canal Company. This job, together with his skills as a farmer and Emily's gardening and homemaking skills, supported their family successfully through the Great Depression. The Pitmans brought one child (Dale) with them to Dietrich when they moved there from Emmett. In Dietrich, Emily bore four more children. She died suddenly in 1945 at the age of 37, leaving a family of five young children.
Coming to the aid of the Pitman family after Emily's death was Emily's sister, Florence Morgan Wessel. Florence, divorced from her first husband, brought her 11-year-old child, Alice, to the family when she married Howard in the spring of 1946. Howard later officially adopted Alice and she was reared in the Pitman family.