Robert Morgan was born 24 August 1883 at Neeley, Idaho. He married Delora Ross, daughter of Melvin and Mary Ellen Haddon Ross. They had three children, Robert William Morgan (b. 1911) in Poplar, Idaho, Ross Dennis Morgan, (b. 28 June 1916), and Melvin Morgan (b, 30 Jan 1919), all of whom died young. He divorced Delora Ross sometime after 1920 and later married Edith Workman. There are no living descendants today from either marriage. Robert Morgan worked in the Poplar area (we have pictures of him building canals with horses and Buck scrapers) and perhaps farmed there as well. There are oral histories suggesting that a son of Edward Morgan built a cabin in Blacks Canyon near the Snake River upstream from Poplar, Idaho and lived a hermit like existence there for a time. This could possibly have been Robert Morgan. He died 23 Sept 1939 at the age of 56. His older brother, Edward Thomas Morgan, born 1 Dec 1869, outlived him and died 12 July 1952. Delora Ross Morgan married again to Norval Grant. And then later to William Warden Swain.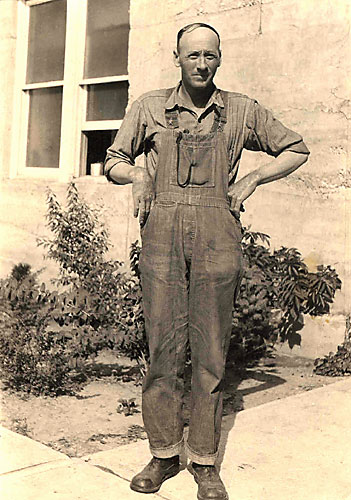 Robert Morgan later in his life.
Robert Morgan building irrigation canal with horses and Buck Scraper
Click on the link above to see pictures of Robert Morgan working on irrigation canal projects in the Shelton, Idaho area.
Click on the link above to see a picture of the gravestone for Robert Morgan in the Shelton, Idaho Cemetery.
Delora Ross Morgan (Grant) (Swain)
Click on the link above to be taken to a page with a picture of the headstone for Delora Ross Morgan with her third husband.