Lila Jane Nowlin was born 25 February 1913 in Claresholm, Alberta, Canada. She died 29 April 1980 in Banff, Alberta, Canada. She married Hubert Charles (Bert) Davies in 1937. Bert was born 22 April 1907 in Edmonton, Alberta. He died April 25 1973 in Banff.

In the picture above are Lila Jane Nowlin Davies and her husband Bert Davies with their two sons, Gordon Max (Tad) and James Morgan.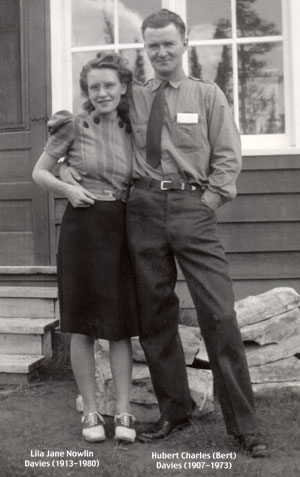 Bert and Lila Davies. Bert was a warden with the Banff Park Warden Service for about seven years.
During World War II bert was in the army and was stationed in Ontario. Before the end of the war he was sent to the prisoner of war camp at Morely Flats, Alberta, where he worked as a guard. On one of his patrols a German prisoner called out to him. As he turned around a rock about the size of a baseball hit him in the face, breaking his nose, which remained off centre.
At the end of the war Bert joined the Banff Park Warden Service and was a warden for about seven years, the first six years were at the Saskatchewan River crossing. At that time the Banff-Jasper highway was a gravel road and was never cleared in the winter. Bert's brother in law, Fay Nowlin, was also a warden and they would go on long winter ski patrols. Fay was very a good skier and during the war he was a mountain training instructor at the Columbia Icefields teaching American and British soldiers winter survival techniques.
During a winter patrol Bert's first son, Jim, was born. The temperature was minus 30 C and while skiing to Lake Louise he had to stay overnight at the Hector Lake warden cabin located about eight miles north of Lake Louise. A second son, Gordon (Tad), was born in February 1942.
In 1945 Bert left the Warden Service and started a trucking business. Calgary Power, which eventually became Atco was building the Spray and Barrier dams. He ran a very successful trucking business until the mid 1960's when he sold the equipment and retired.