Mary Ester Ross was called Mame or Mamie. She was born 14 March 1873 in Oak City, Millard, Utah. She married Hyrum Weld Stott on 27 May 1896 in Manti, Sanpete, Utah. Hyrum was born 27 June 1875 in Meadow, Millard, Utah. They had three children, Leland Hyrum, Roscoe Wild, and Asael R. Then they adopted as a baby Percy Lynn Stott, who was born in 1920 and died in 1995, Presumably they adopted him sometime soon after his birth. Mary Ester died on 2 April 1950 in Blackfoot, Bingham, Idaho.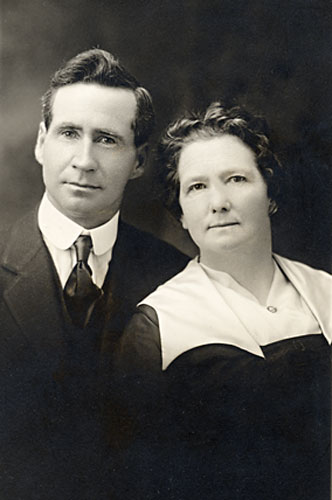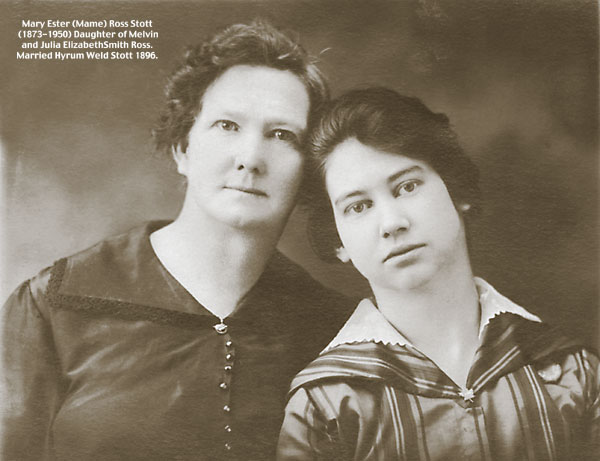 Mame Ross Stott and unknown person. Perhaps a granddaughter?
From Hyrum Stott's obituary in the Post Register at Idaho Falls, Idaho.
Hyrum Weld Stott, former Teton County commissioner and school trustee, died 19 January 1958 of illness incident to age. A long time resident of Idaho he moved to Blackfoot in 1940. He died at the home of a son, Ross W. Stott, near Felt in Teton County.
Hyrum was born June 27, 1875, in Meadow, Utah to William Henry and Alice Nield Stott. He married Mary Ester Ross in the Manti, Utah, Temple May 27, 1896. They moved to Soldier, Idaho, in 1930, and after a year moved on to Marysville in Fremont County. In 1910 they took up a homestead five miles north of Felt, Idaho (In the Teton Valley). They moved to Idaho Falls in 1936 and to Blackfoot in 1940, where Mrs. Stott died April 2, 1950.
In Marysville he was a member of the village board. In Teton County he served two terms as county commissioner and was a school trustee. Church activities in various places included a mission in the northwestern states, presiding elder, Sunday school superintendencies, and ward clerk and bishop in the Palisade Ward for eight years during the homesteading period.
Burial will be in the Fielding Memorial Park in Idaho Falls.