Florence Moore Jordan, born 14 May 1899 at Shelton, Bonneville, Idaho.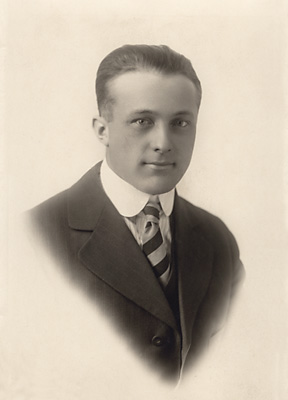 Melvin Robert Jordan, born 1 November 1895 in Milo, Idaho to Robert Lee Jordan and Nancy White Jordan. Died 5 June 1966 at Milo, Bonneville, Idaho.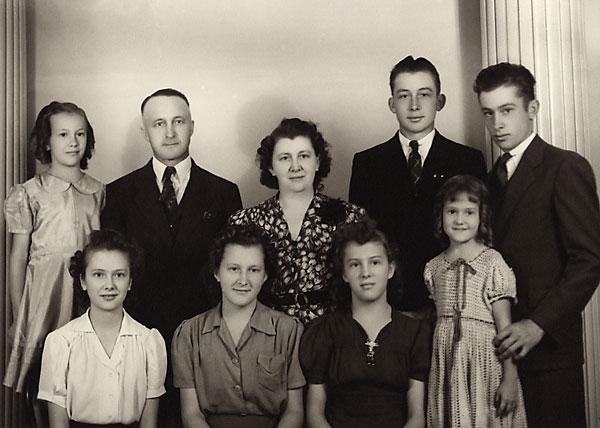 Family of Melvin Robert and Florence Moore Jordan. Back row: Left to right: Shirley, Melvin Robert, Florence, Reed, and Max (Mick). Front Row: Gladys, Fern, Anna (Ann), and Dallas. Florence and Melvin Robert were married 25 September 1920. Picture made 1939.
Life Sketch for Florence Moore Jordan
Written by herself prior to 1970.
Conclusion by Dallas J.B. Hatch July, 1981
I was born in a two room log house May 14, 1899 to John Thomas Moore and Annie Anderson Moore. (The home was located in Shelton, Idaho.) I was the eleventh child in a family of twelve, three girls and nine boys. It has been said that I was very good natured and spent most of my time in a large rocking chair. I had brown hair with a reddish cast to it and it was naturally curly. When I was five they cut it and my brother, Wesley, cried because he didn't want to see the curls go.
I was baptized in 1907 by my father and confirmed a member of the Church of Jesus Christ of Latter-Day Saints by Bishop Edmond Lovell. (I was baptized in the canal that went by near our home in Shelton.)
I went to school in District #14 (Shelton School) when I was six and graduated from the eighth grade at the same school. We had lots of fun at school. When small we use to play house in a field where there were lots of large sage brush and we would use them for beds and chairs. Then as we got older we would play ball, marbles, hop-scotch, and in the winter we played Fox and Geese and would go skating on a ditch close by. My father used to help me across a large canal in the spring as the water and ice would run over the foot bridge.
We used to hold Religion Class after school one night a week and I used to look forward to it as we could choose the songs. I also went to Primary and once when my brother and sister and I were walking home in the summer we were taking a short cut home and were crossing a ditch and I fell in. I would have drowned if my brother Ralph hadn't jumped in after me and a neighbor lady helped pull me out.
I went to High School for two years. One year at Idaho Falls, where I worked for my board and room then we would walk to school about ten blocks morning, noon and night. One year at Rexburg (at Ricks Academy) I had a room with a cousin [Jeanette Moore] and we cooked our own meals and kept house.
I can remember many different things I have done. Almost like the pioneers. Mother and I used to go along the fences after a herd of sheep had passed going to summer range and we would gather the wool that had been left. Then we would save it and when we got enough for a quilt, we would wash, dry and card it and then put it in quilts.
We used to grow lots of berries such as currants, gooseberries, raspberries and black currants. I remember getting up real early to pick raspberries and sometimes it would take all day.
We used to wash in a hand washer. That is one where you turned a large wheel by hand to make the inside work the clothes around to clean them. We use to have stove irons to do the ironing with.
Mother used to make cheese and butter and I helped to do this. I also made cheese and butter after I was married.
I used to thin beets, hoe spuds, and lead the derrick horse when putting up hay. From the time I was 13, I worked for different people at harvest time and when new babies were born. After I was out of school, I clerked in a store at Ririe. The only amusement we had was church parties and dances at Ririe. I used to be secretary at Sunday School and at MIA in the Shelton Ward and took many parts in drama.
On September 25, 1920 I was married to Melvin Robert Jordan at my parent's home by Bishop Edmond Lovell. Elizabeth Williams was my bridesmaid and one of my very best friends. My brother, Ralph, was best man. We had about 50 relatives invited and had a lovely wedding supper. Our marriage was solemnized in the Idaho Falls LDS Temple February 19, 1946.
Following our marriage, we came to Milo to live. We lived in the old family home for some time and then in 1924 we bought our present home-site. We built our new home in 1930 and moved in in September of that year.
We had seven children. Two boys, Max and Reed, and five girls, Gladys, Fern, Anna, Shirley, and Dallas. Melvin taught school and farmed and I was busy with caring for the children, gardening, sewing and the busy life that accompanies raising a family on a farm. We have twenty grandchildren and twelve great-grandchildren.
In 1942 , we lost Reed at the age of 19 following a three month battle against peritonitis following a ruptured appendix. It certainly left a vacancy in our home and our hearts.
I have held many offices in the Milo Ward. Primary teacher and Historian. My greatest love has been in the Relief Society. I have served as secretary, work leader, literature teacher and have been a visiting teacher for many years. I was a Gleaner teacher in MIA and have helped with drama and road shows. There were two road-shows that I was particularly proud of since we took first place honors at the East Rigby Stake. They were 'Rock of Ages' and 'Let There be Light.' I had written and directed both of them.
I had the responsibility of organizing many of the banquets that were held while we were anticipating the building of our new church house.
In 1966, Melvin passed away suddenly. This, of course, was a tremendous shock and adjustment. I, later, sold my home and acreage to a son-in-law, Robert Hill. I purchased a trailer home and I live North of the home where I raised my family and spent those precious years.
**** end of autobiography ****
Another tragedy brought sadness into Mother's life when Fern passed away suddenly on November 26, 1971. Fern had been such a help and comfort to Mother during those few short years that they had lived in the family home. Mother continued to enjoy Bob and their children, who were so attentive to her needs.
Mother enjoyed fishing, camping and picnicking with family, relatives, and friends. Even though it was often difficult for her to get around she was always eager to go and enjoy the great outdoors. We had many enjoyable outings, thanks to her.
She was an outstanding cook; the apple-dumplings, the fried chicken, new peas and potatoes, the homemade bread and doughnuts. It didn't matter whether she was cooking for the family, the threshers, chairing a ward banquet, or cooking over a campfire, she could produce mouth-watering meals.
The quilt tops that she sewed, not to mention dresses for her own daughters and granddaughters, must number into the hundreds. She was skilled in all handicrafts including quilting, crocheting, textile and figurine painting and other creative work. In retrospect, I marvel at how she accomplished so much.
I've often wondered at how she kept her sanity when we would all go to her home to do our canning projects. She always raised a big garden. We would take all our kids-snap beans or peas or maybe do 50 young roosters for the freezer. In all this she would prepare a cooked meal and most amazing of all, act as if she enjoyed the whole day. She always made use feel welcomed and it has left pleasant memories for us and the grandchildren.
Mother suffered a small heart attack on her birthday in 1973. Her health deteriorated with congestive heart failure during the following two months. She passed away July 31, 1973. She is buried in the Milo Cemetery. She had lived her entire life within a ten-mile radius of where she was born. She had spent a school year at Rexburg and a year with Dad at Albion, but Bonneville County was her home. She loved her life here and passed on a rich heritage to her children.