Annie Moore with her brother Wesley. Picture probably made when they were teenagers.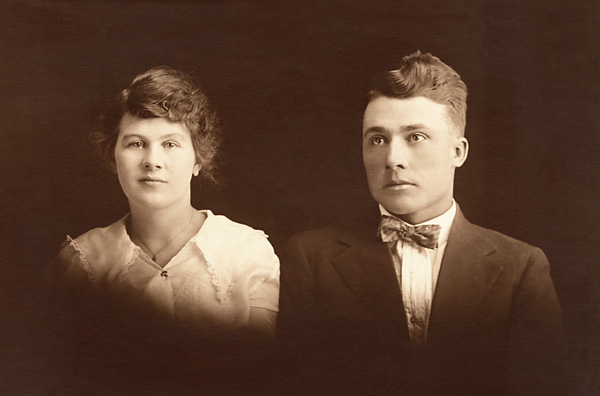 Annie Moore with her husband Jessie Clay Ritter. Jessie was born 12 February 1893 and died 9 January 1947. They were married 20 October 1917.
Life Sketch for Annie and Clay
Most if this life sketch was written by Grandma Ritter during the last months of her life. As follows:
I was born the ninth of twelve children to John Thomas and Annie Andersen Moore on July 23, 1894 in Spanish Fork, Utah. When I was three years old my father, mother, and six brothers and I moved to Prospect, Idaho, now known as Shelton.
I attended and graduated from eighth grade from the upper Shelton School. When I was eight years old I was baptized into the L.D.S. Church August, 1, 1902 by my father and confirmed the next day.
My first job in the church was Secretary of the Primary and later I was President of the Branch Primary. I taught a Sunday School class and was a Counselor in the Young Women's M.I.A. I also taught a Beehive class in Mutual.
I attended school at Idaho Falls High School for two years and high school in Salt Lake City for one year. Then my courtship days began. On October 20, 1917, I married Jesse Clay Ritter in Idaho Falls, Idaho. The next year we had a great disappointment, we lost our first baby, a little boy named Max Clay. Then my husband had to go into the army and I returned home to live with my parents.
After Clay returned from the army we had five more children: Dean, Clyde Willard, Phillip Jay, Jack Wardell, and a baby girl that died at birth.
Grandpa and Grandma lived all their married life in Shelton, Idaho where she was active in church and often took part in drama and plays. Grandma was a charter member of the Daughter of the Utah Pioneers. She served as Captain and Vice-Captain of the Sarah A. Howard Camp.
Grandma was also a member of the Relief Society and especially in her later years rarely missed a meeting. She loved the quilting days and always attended them. She taught Theology and Literary Classes and was the Magazine agent for about ten years.
Grandma loved to quilt, sew, and do fancy work. She made quilts for her married grandchildren and baby quilts for her Great Grandchildren.
Grandma's health began to fail her sometime ago. She passed away September 8, 1968 in the L.D.S. Hospital at Idaho Falls, Idaho.
She is survived by four sons: Dean of Chicago, Clyde of Ririe, Phillip of Idaho Falls, and Jack of Shelton; 19 grandchildren and 15 great grandchildren; one sister, Florence Jordan of Milo and two brothers, Ralph of Shelton and Reed of Coalville, Utah.
Grandma was preceded in death by her parents, her husband, two children, and six brothers.