Arlo Frank Brown.


SPEC. 4 Arlo Brown, 103rd Engineering Company, 4th Battalion, United States Army, gave his life in the service of his country January 14, 1967.
Arlo was killed in the explosion of an oil tank at Ben Hall, 17 miles from Saigon. He entered the Army April 8th 1965 and went to Vietnam in January 1966. He had only two weeks more to serve in Vietnam.
Arlo was born in Idaho Falls, graduated from Ririe High School in 1962, and attended Ricks College in Rexburg, Idaho for one semester.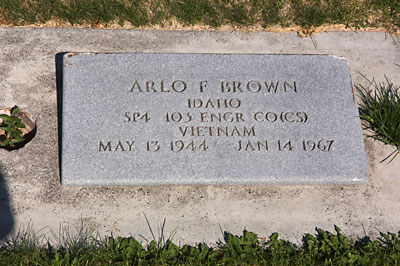 Grave marker for Arlo Brown in the Shelton, Idaho cemetery.