Life sketch of Velma Sarah Brown Nelson


Velma Sarah Brown was born April 28, 1911 in a small log house in Shelton, Idaho. I was born to Franklin and Mary Emma Morgan Brown. I was the fifth surviving child with two brothers to follow. I had a difficult time arriving into this world, I was a two pound premature baby. My mother nearly lost her life. Her two sisters, Aunt Prisse Ryset, and Aunt Annie Moore, watched over me and kept me warm in a basket lined with cotton, sitting on the oven door of the kitchen stove. They heated rocks and put them in the basket to retain the heat.
I spent most of my life growing up in Shelton. My grandparents, Sarah and Edward Morgan lived down the road from us. They were very kind to us when we visited them. The cookies were always available. In their latter years I would carry them a bucket of milk every day. They were a very kind and happy couple.
I went on a mission to the Western States Mission with headquarters in Denver, Colorado. I served in Denver and in Albuquerque, New Mexico. I was released from my mission in September of 1932.
At a dance in Ririe I met Melvern Nelson of Swan Valley, Idaho. We were married in Blackfoot, Idaho [15 March 1934] and then lived in Swan Valley. We had four children, LaRue, Melvern Lee (Mickey), Carol Beth, and Mary Kathleen (Kay). We lived in Swan Valley for 10 years where we owned and operated a garage and service station, and also farmed. We first lived in a two room cabin, without electricity, and we used a delco plant to supply us with power. We did have running water. We then built us a house. It was shortly after then that electricity came into the valley. LaRue and Mick both started school in Rainy Dell School.
Just before we moved into the new house, Carol was born. Then in May of 1942, Mel had an accident on the farm. His tractor ran over him. The ground was soft so he wasn't killed but he was badly broken up. He was in the operating room for eight hours but they saved his arm, stitched his scalp back on and wrapped up his broken ribs. He was in the hospital for 16 days. Mel got out of the hospital on June 1 and I went in to have Kay on June 4. Mel made it to the hospital with his arm in a sling and head bandaged to be with me.
We moved to Pablo, Montana, in 1943. We bought an irrigated farm, had 16 milk cows. It was the first time we had indoor plumbing and central heat. Carol started school in Pablo. Kay started school in Reservoir Valley School, a one room school between Pablo and Poulson with one teacher. We sold the farm in 1949. We then tried city living by moving to Salt Lake City. We sold out the next year and moved to Idaho Falls. But Mel missed Montana so in the spring of 1951 we moved to Arlee, Montana. We had a ranch and the kids finished their school in Arlee. LaRue married Dan Joe Brumwell in 1953. He was killed in a car accident in 1967 and she later married Thomas Schara. Mick went to college, joined the army and went to Korea for a year. While stationed in Lawton, Oklahoma he met and married Darla Dee Presley. Darla passed away in 1998 and Mick then married Ginny Gann. Carol had graduated and married Grover Eugene (Gene) Houston and moved to Texas by then. They later returned to Montana. Kay graduated, went to BYU, and graduated. She then took a job in Alaska, where she met and married Don Hanks.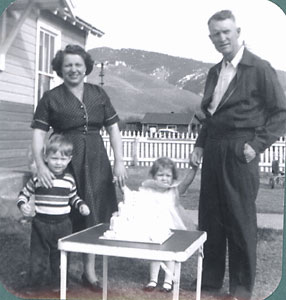 In the picture above are Velma Sarah Brown Nelson and her husband Anton Melvern (Mel) Nelson on their 25th anniversary (1959).
We sold the ranch in Arlee in 1971. Bought one in Cut Bank, Montana and then in 1974 sold off the ranch, retired and moved to Columbia Falls, Montana. Mel passed away in 1987. I lived in our house for a few years, visited the kids, stayed in the south with Mick in the winter and Columbia Falls in the summer. I then sold my house and started staying with Carol in Columbia Falls, traveling and visiting.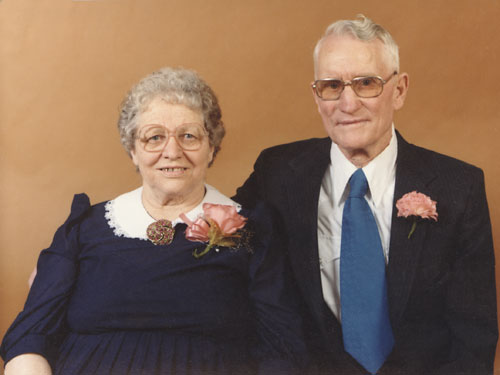 Anton Melvern (Mel) Nelson and wife Velma Sarah Brown Nelson taken on their 50th anniversary (1984).
Mother passed away May 15, 2002, in our home in Columbia Falls, Montana. She was 91 years old.